Also in Top R&W NVI many females GenHotel members
Genomics
Batouwe Salsa Aiko Red VG-85, granddam of R&B SW Aimy Red
Just like in the top B&W NVI, we also find in the top R&W list in The Netherlands and Flanders several females bred and owned by GenHotel members. In the top-100 NVI list, the Jacuzzi-Red daughters do well and claim a large part (59%) of the list. The number 1 is a Jacuzzi-Red x Baltikum with 376 NVI. Number 1, based on longevity, is with 875 LVD Aalshorst 3STAR Konzert 1. 
Aalshorst 3STAR Konzert 1 is a Westcoast Swingman-Red daughter from the Wilder Kanu family. Konzert 1 her dam, K&L SK Konzert Red, is fresh and is doing really well. In addition to Konzert 1 her 329 NVI, she also scores a fantastic 156 RZG! 
Placed 5th based on NVI we find the R&B SW Aimy Red, a Swingman Red x Alaska Red with 359 NVI out of the Kamps-Hollow Durham Altitude RDC EX-95 family. It was her maternal sister which was sold as lot 1 at the GenHotel Selection Sale sale. 
De Oosterhof Rebel Top is no. 11 in the top R&W list with 348 NVI, and with her 564 INET Rebel Top also marks her great qualities! Rebel Top is a beautiful heifer which is a result of the mating Rubels-Red x DG OH Donna 2 RDC GP-84 (s. AltaTopshot). She also scores very well on a German and American basis! Rebel Top is not the only Rubels-Red daughter to be found in the R&W female NVI list. 3STAR OH Sunnyside Red (Rubels x Salvatore RDC) is also doing great with 325 NVI and 582 INET.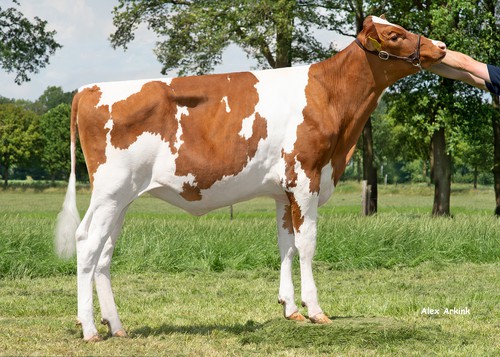 De Oosterhof Rebel Top 153 RZG / 2668 TPI / 348 NVI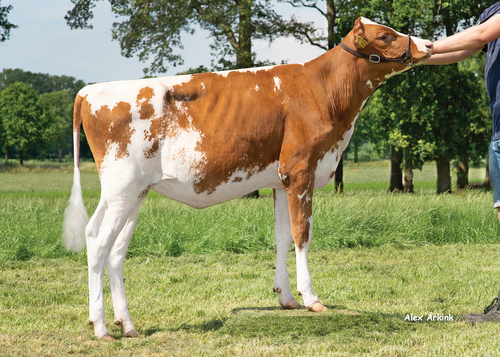 3STAR OH Sunnyside Red 163 RZG / 2830 TPI / 325 NVI
As with the black and whites, the prefix Beeze and Oldleus also pass by in R&W NVI list. Beeze Oldleus Gracie P Red descneds from a deep, Dutch cow family, namely that of Molenkamp Grietje. This Grazie P Red is also a Jacuzzi-Red daughter and in addition she's Pp! With her 615 INET Gracie P Red is the highest heterozygous polled, red, INET heifer of the Netherlands and Flanders!
A heifer in this list with the same combination (Jacuzzi-Red x Mission P RDC) also reaches the top INET with 560 INET. It's about Buitenlust Sanne Red. Sanne Red her dam; Wilder Smart Red GP-84 is the maternal sister of the sire Wilder Smiley RDC (s. Battlecry) @ CRV. Also Sanderij Riva's Smile 1 Red (321 NVI) is a Jacuzzi daughter from the renown Apina Massia family.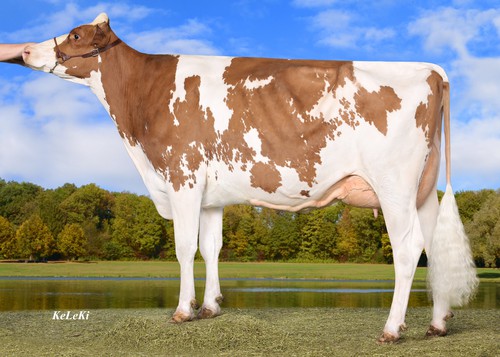 Wilder Smile Red VG-85 (s. Brekem RDC) granddam of Buitenlust Sanne Red (s. Jacuzzi Red)