+155 GRZG Salvatore at Visstein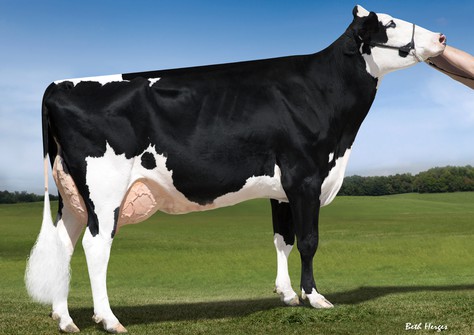 Genomics
KHW Super Aderyn RC EX-90
Visstein K&L SV Aderina Red is a Red Salvator daughter owned by K&L and Visstein Holsteins. Aderina Red scores at least +155 GRZG and is among the highest heifers on German basis. Aderina Red also offers +316 GNVI and +2520 GTPI. She is now over 8 months of age and will be flushed this summer.
Pedigree
The dam to Aderina Red is Willsbro K&L Nugget Aderyn RDC, a Nugget daughter out of a VG-85 Supersire daughter of KHW Super Aderyn RC EX-90 (Superstition x KHW Goldwyn Aiko RC EX-91 x Kamps-Hollow Durham Altitude EX-95). Nugget Aderyn RC is projected at over 9.000 kg of milk with 4.79% fat and 3.93% protein. She already has 2 sons in AI and she also has several interesting daughters as well. Just think of Styx daughter K&L SX Aikina RDC (+151 GRZG / +312 GNVI) who is owned by K&L and Voorhof Holsteins. Another "Great" daughter of Nugget Aderyn RC is K&L GT Aderyn Red (+157 GRZG / +320 GNVI) sired by Great Red. Both Aikina RDC and Aderyn Red are in a flush program and embryos will be available through the GenHotel Embryoprogramme.
Nugget Aderyn RDC herself will also be used as a donor again due to the excellent results of her daughters. Tomorrow (May 16, 2018) she will be flushed to My Dream P RDC (Mission P x Shotlgass) and possible embryos will be available through the GenHotel Embryoprogramme.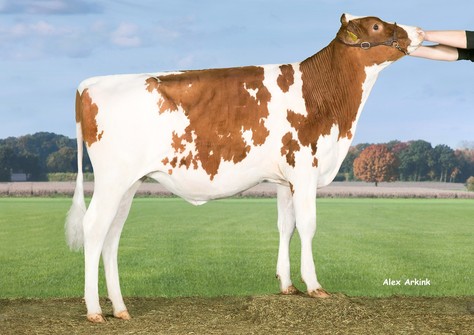 K&L GT Aderyn Red, Great Red x Nugget Aderyn RDC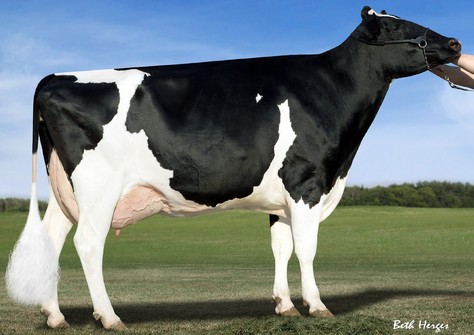 KHW Goldwyn Aiko RC EX-91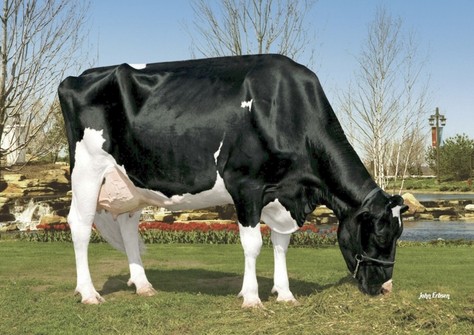 Kamps-Hollow Durham Altitude EX-95