1000 Excellent daughters for Outside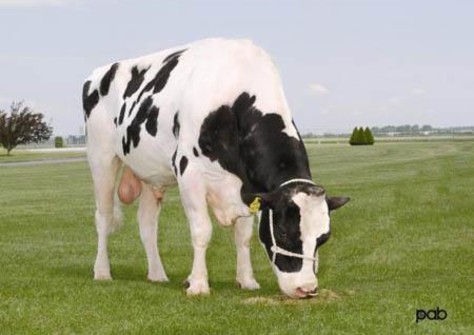 Comestar Outside is the second bull in Canada, after Braedale Goldwyn, that has now 1000 Excellent classified daughters. The Prelude son of Comestar L Or Black VG-87 (Blackstar x Comestar Laurie Sheik VG-88) was a very popular sire-of-sons partly due to very good type (with a little bit more strength) and solid health traits. Popular Outside sons are for example Ked Outside Jeeves and Solid-Gold Colby, both known because of their very good health traits and powerful type.
Influence full daughters
The list with influence full Outside daughters is long, very long. Therefor it's impossible to mention them all. But still, we would like to show a little bit of the great "breeding power" of Outside in the maternal line. Outside daughters had some extra strength and that made them great cows to work with and they often turned into great mature cows as well. In this news fact we will focus us on the Outside daughter with offspring on GenHotel.
Batke Outside Kora EX-94
We start with a fantastic broodcow. Batke Outside Kora EX-94 is nog only a very popular Outside daughter, she is also one of the most influence full European broodcows. As a 2-Yr Old she was named Junior Champion at the All-European Championship in Oldenburg 2016. After that she developed into a great looking, EX-94 classified cow with a huge breeding power.
The most important maternalline of this family is housed at Wilder Holsteins. Their eye catcher is Wilder Hira VG-85 (Saloon x VG-85 Snowman x VG-87 Goldwyn x Kora) who has at least 7 bulls in AI. She also has several high testing daughters and granddaughters. What to think of Wilder Hindu, a +2750 GTPI Jedi, or Wilder Hey, a +2705 GTPI Pledge.
Windy-Knoll-View Outside Policy EX-93
Two impressive Outside sisters in the US where Windy-Knoll-View Pledge EX-95 and Windy-Knoll-View Policy EX-93, Outside daughters of Windy-Knoll-View Promis EX-95 and full sisters to Windy-Knoll-View Promis EX-95. Both sisters have a lot of offspring and where great broodcows. Pledge also was very successful in the showring. Policy is probably the most successful broodcow of the two in Europe, especially thanks to her Snowman granddaughter FG Feline VG-86. She is the dam to K&L SH Fleur, Schuit Felien, K&L SH Fina, Dukefarm K&L Zohra P and Netherside Pleasance and some of these cows have already high offspring as well.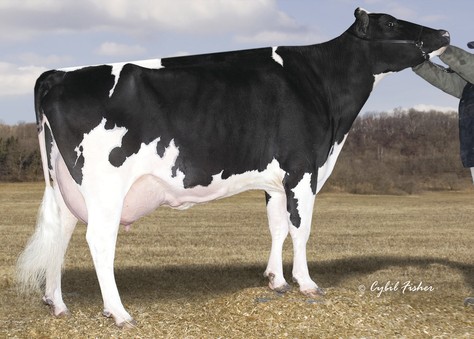 Windy-Knoll-View Policy EX-93
Other
As we mentioned earlier, we cannot name all influence full Outside daughters. We only mention a few more that have offspring on GenHotel. What to think of Larcrest Outside Champagne EX-90, a Outside daughter of Larcrest Juror Chanel EX-93 and the dam to the superior Shottle daughter Larcrest Cosmopolitan. Or Standacona Outside Abel VG-88, one of the best broodcows in Canada and the dam to Eastside Lewisdale Gold Missy EX-95. And then we have Whittier-Farms Outside Roz EX-95, Rabur Outside Pandora EX-91 and Vieuxsaule Outside Mary Sol EX-95, the dam to Vieuxsaule Allen Dragonfly EX-94. You read it, the influence of Outside is huge and then we have kept this news fact short…..
Tip: Click at the top of this site in the menubar at "SEARCH" and look for "OUTSIDE" or the name of one of the mentioned cows. You will find a list with cows/heifers that have Outside in the pedigree.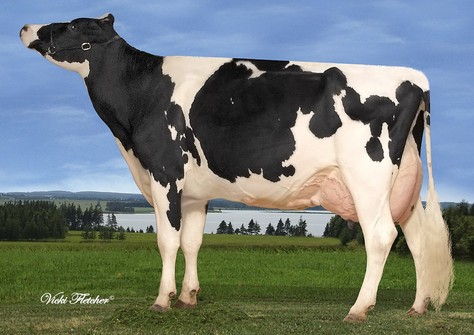 Stadacona Outside Abel VG-88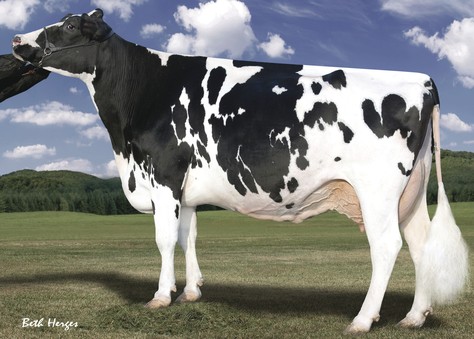 Larcrest Outside Champagne EX-90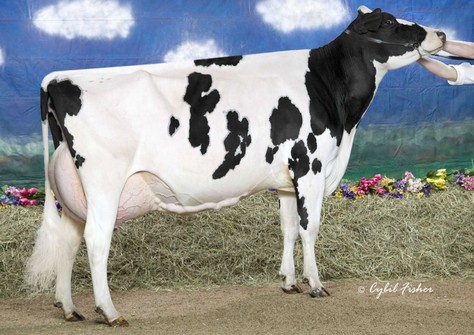 Whittier-Farms Outside Roz EX-95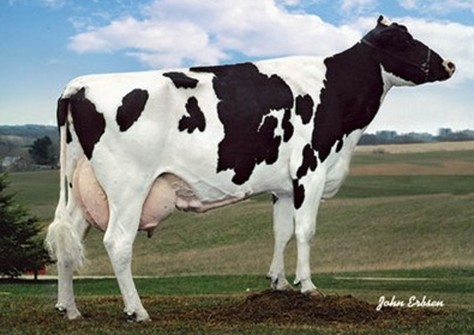 Rabur Outside Pandora EX-91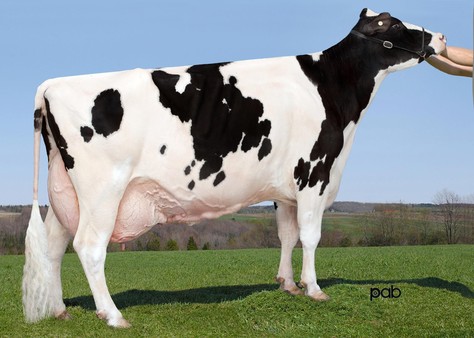 Vieuxsaule Outside Mary Sol EX-95