Two successful rounds of scores for Zandenburg Holsteins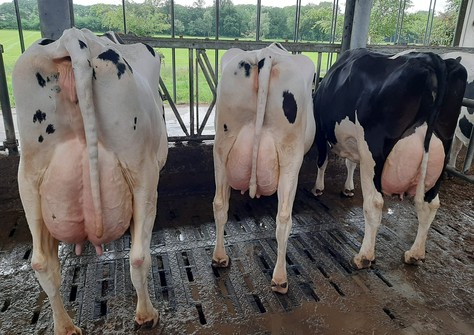 General
Doorman Camilla EX-90, Apli Ebony1 VG-89 and Josup Ebony VG-88
In May, during the biannual classification day, 5 two-yr-olds and young dairy cows already received VG-88 at Zandenburg Holsteins. Last week Zandenburg Josup Ebony, Zandenburg Apli Ebony 1 and Zandenburg Doorman Camilla were rescored during a re-classification!
The average over 22 two-yr-olds in May was an outstanding score of GP-84.0! Outliers with VG-88 were the two Foris sisters Zandenburg Floris Camilla 1 and Zandenburg Floris Camilla 2.
During a second visit of the Dutch herdbook, last week, the Sommers family showed three dairy cows for a re-score. The 4th lactation Uecker Supersire Josuper daughter Josup Ebony was good for an overall conformation score of VG-88 with EX-92 MS. Zandenburg Apli Ebony 1, a third calver Stantons Applicable scored VG-89 with EX-92 DS. Ebony 1 VG-89 is a daughter of the great brood cow Zandenburg Sundance Ebony VG-87, which has calved 5 times now and is still present in the herd.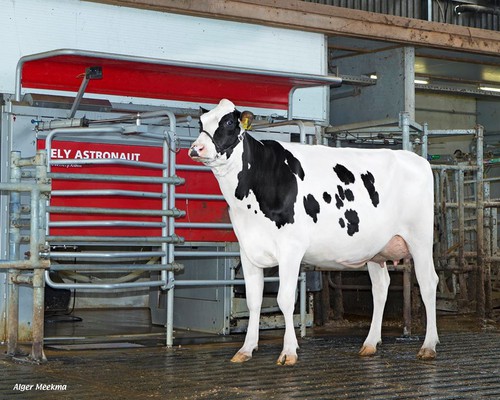 Zandenburg Apli Ebony 1, classified VG-89 now
The Anderstrup Laudan Camille VG-89 family now has several generations at Sommers, after the purchase of Flevo Genetics Snowman embryos from Camille VG-89's Ramos daughter. One of these purchases resulted in Zandenburg Snowman Camilla VG-89, whose granddaughter Zandenburg Doorman Camilla received a well-deserved score of EX-90 with EX-91 DS and MS. The line from which Camilla EX-90 originates contains many highly classified cows that combine conformation with a super production. For example, her dam Zandenburg Meridian Camilla VG-89 participated in the European Championship in Colmar in 2016 and was named Intermediate Champion Midsummer Dairy Show 2016.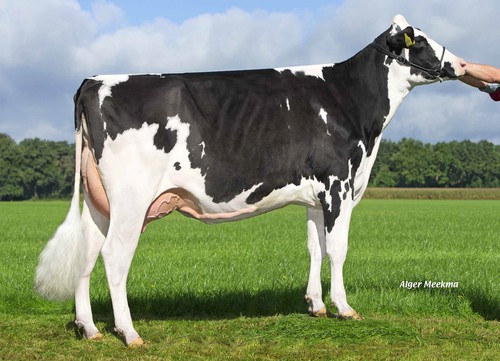 ​
Dam of Doorman Camilla EX-90: Meridian Camilla VG-89
There was also other, fantastic news for Zandenburg Zelgadis Wanja VG-86, a 7th lactation Zelgadis from the family of the outstanding sire To-Mar Blackstar! Wanja VG-86 is not only the 10th generation VG/EX from the To-Mar Wayne Hay EX-90 family, but also recently managed to pass the 100,000 kgs milk barrier!
| | | | | | | | | | |
| --- | --- | --- | --- | --- | --- | --- | --- | --- | --- |
| Name | Sire | Dam | Col | Lact | FR | DS | MS | FL | TOT |
| Doorman Camilla | Doorman | Meridian Camilla VG-89 | B | 3 | 89 | 91 | 91 | 88 | 90 |
| Apli Ebony 1 | Applicable | Sundance Ebony VG-87 | B | 3 | 88 | 92 | 87 | 90 | 89 |
| Josup Ebony | Josuper | Radon Ebony GP-84 | B | 4 | 86 | 88 | 92 | 86 | 88 |
| Salvatore Ebony  | Salvatore RDC | Allard Ebony GP-84 | R | 3 | 86 | 88 | 90 | 87 | 88 |
| Floris Camilla 2  | Floris | Imax Camilla VG-86 | B | 1 | 89 | 88 | 86 | 88 | 88 |
| Sound S Ebony  | Sound System | River Ebony RDC VG-85 | B | 3 | 84 | 91 | 92 | 86 | 88 |
| Floris Camilla 1  | Floris | Imax Camilla VG-86 | B | 1 | 86 | 88 | 87 | 89 | 88 |
| Concert Ebony  | Concert | Danno Ebony GP-83 | B | 3 | 89 | 88 | 90 | 84 | 88 |
| Jacuzzi Fabiola  | Jacuzzi Red | Romano Fabiola VG-88 | R | 1 | 87 | 89 | 84 | 88 | 87 |
| Ronald Fabiola  | Ronald RDC | Fun Fabiola EX-90 | R | 1 | 84 | 85 | 85 | 89 | 86 |
| Crimsonebony  | Crimson | Cyrano Ebony GP-84 | B | 1 | 85 | 85 | 87 | 85 | 86 |
| Casino Lidia  | Casino | Esperanto Lidia GP-83 | B | 1 | 84 | 86 | 87 | 86 | 86 |
| Durable Ebony 2 | Durable | Esperanto Ebony | B | 1 | 83 | 85 | 88 | 84 | 85 |
| Build Camilla  | Builder P | Adagio Camilla P EX-90 | B | 1 | 86 | 85 | 85 | 83 | 85 |
| Jacuzzi Ebony 1  | Jacuzzi Red | River Ebony RDC VG-85 | B | 1 | 84 | 78 | 86 | 86 | 85 |