Great conformation females at VMO Holsteins
General
Maternal sister of Veneriete RUW Board VG classified at VMO Holsteins
A classification of ten cows and two-yr-olds at VMO Holsteins (the Veenhouwer family) resulted in 8 VG and 2 GP scores this week! From this group, three females are the result of the GenHotel 3STAR Embryo Program.
K&L Poppe Dellia 8497 and K&L BB Ide both enjoyed great scores! Dellia 8497, a third calver Cyrano daughter from the Dellia's, received a VG-87 score with EX-90 for her mammary! Herdmate K&L BB Ide (by Best Boss) calved for the 4th time in February. This maternal sister of K&L Ido @KI Kampen and Veneriete RUW Board @RUW knows how to achieve very high fat and protein percentages. Over four lactations she averages 5.14% fat and 3.93% protein! Ide is classified VG-86 with VG-MS now. Her daughter VMO 3STAR Jacida RDC (s. Jacuzzi-Red) also calved in February, impresses with her fancy VG-87 mammary and has a great start with 17% over herdaverage.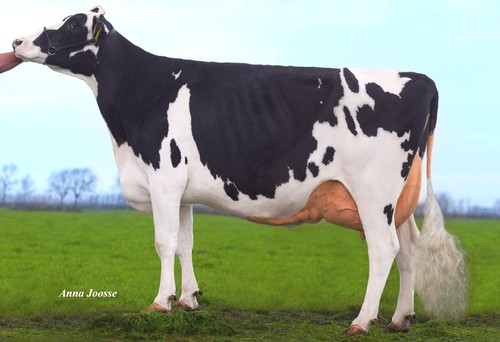 ​
Dam of K&L Bb Ide VG-86: Veneriete Epic Ida 66 VG-88
But also the homebred families of VMO Holsteins perform fantastically, such as the VMO Lyra 25 (by Rickland Dara), which is scored VG-89 (EX-91 MS) now. And in addition the 9th lactation VMO Marie 104 RDC (by Taco), at the age of 11-yrs-old,  classifying VG-86 with a VG-89 MS! This Marie 104 RDC managed to achieve already a lifetime production of 96,603 kgs of milk with 4.63% fat and 3.64% protein! To be continued ...