Top GTPI's for Riethil Holsteins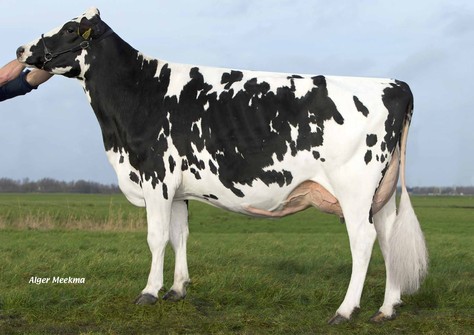 Genomics
NH Super Islandwave VG-87, granddam to Islandsire and Island Command
Several high genomic tested heifers are added to the site of Riethil Holsteins. Two of them are daughters of Riethil Island Wonder. This Lexor daughter of NH Super Islandwave VG-86 (Superstition) is just fresh and looks very good. Her Supersire daughter, Riethil Islandsire, scores +2439 GTPI based on a good production, very good health traits (including positive fertility) and excellent type. Her Commander half-sister, Riethil Island Command, has a GTPI of +2400. She also shows high type and positive fertility.
Dellia
Riethil Rain hails from the Snow-N Denises Dellia EX-95 family. This Mogul daughter scores +2441 GTPI and her family is already several generations active in the herd of Riethil Holsteins. Her dam, Riethil MOM of Rain VG-87 (Man O Man), and her granddam, Riethil Planet of Rain VG-85 (Planet), are both still in the herd. Through daughters by Goldwyn, Hershel, Rudolph, Mascot and Blackstar this pedigree goes back at Dellia.
Cosmopolitan
She does not have a genomic proof yet, but she has everything that is necessary for a good result. Riethil Ciabatta has a great pedigree coing back at the fantastic Shottle daughter Larcrest Cosmopolitan VG-87. The dam of Ciabatta is a Lewis of Larcrest Chenoa VG-87, the Planet dam to Vekis Chevrolet and Fanatic. Next dam is Larcrest Crimson, the EX-92 classified Ramos daughter of Cosmopolitan.
This is a great family that already bred several proven bulls over the past few years.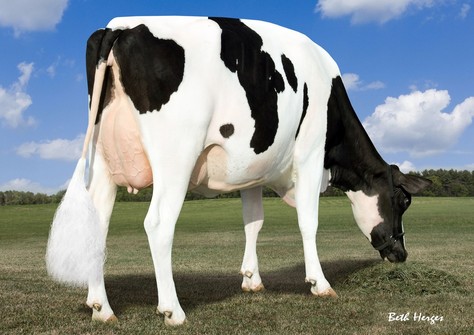 Larcrest Chenoa VG-87, granddam to Ciabatta and dam to Chevrolet and Fanatic