Top 100 NVI B&W is published
Genomics
Great-granddaughters of SPH Gallerie Shotglass VG-86 managed to made the 100 NVI
There are 13 animals from GenHotel members which have reached the top 100 NVI black and white females. The highest scoring heifer on this list is at 363 NVI. The highest female bred by GenHotel members has a NVI of 353, placing her in a fantastic 5th place. 
This 5th place belongs to JHS Holsteins 3STAR Gonda 1, owned by Poppe Holsteins, JHS Holsteins and 3STAR Genetics. Gonda 1 is a daughter of sire K&L OH Bellwether out of K&L Poppe Gonda (by Rubi Agronaut), so is a double result of the 3STAR Breeding program. Through her dam Gonda she goes all the way back to the successful Genua / Grietje family. In addition to her high NVI, she also scores an amazing 158 RZG. She also inherits a lot of milk in both Dutch as German base with high components and super traits for health and longevity.
Her VH Crown half sister Poppe 3STAR Golden 1977 is also in the top of the list with her 346 NVI. She also scores astonishing in both Germany and the Netherlands for milk production. On a RZG basis she even manages to reach the 161 gRZG with 123 for MS and 125 for RZS! Golden 1977 is owned by Poppe Holsteins and 3STAR Genetics.
Midwolder Farm has two animals in this top 100 NVI. They are two full sisters from the mating Casino x Simba. Midwolder Marjon 209 ranks highest in this top list with a fantastic 331 NVI. The Marjon line at Midwilder Farms descents from Remarlinda EX-90. A cow family which is well known for its high production in combination with a good longevity score.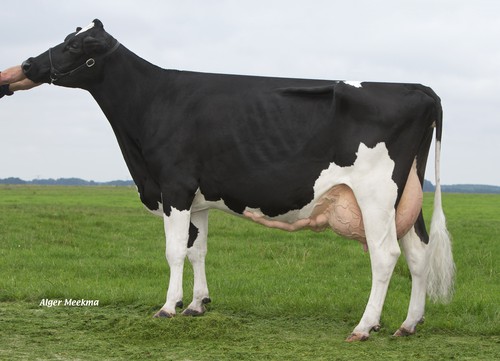 4th dam of Midwolder Marjon 209: Midwolder Marjon 15 VG-87
One of the highest longevity scores is for Zandenburg C.Rang Camilla (by Charley Ranger) with 743 LVD and 317 NVI from Zandenburg Holsteins. Camilla is from the Chemello Jocko Benge VG-87 family, granddam of Anderstrup Ramos Camille VG-88 (s. Ramos) and great-grandmother of Zandenburg Snowman Camilla VG-89 (s. Snowman). A high longevity combined with a good production with high components is something that this family has been famous for.
You can find the NVI publications here on the GenHotel webpage