Three VG-87 2-yr-olds at Moonen
General
Rhala M.O.M. Daydream 5, 4th dam of the VG-87 All Star
Recently the classifier visited Moonen's dairy farm to classify 20 of their B&W and R&W 2-year-olds. It went very well, because the average total score went up to 83.0 and even three milking heifers got a very nice score of VG-87!
Moonen owns some Markwell Durham Daisy EX-92 family members. S-S-I Penley All Star daughter Daydream 69 is one of them! She calved already at an age of 1.11 year and managed to get a wonderful classification score and ended the day as one of the highlights with her nice score of VG-87/VG-88 MS. Daydream 69 VG-87 became one of the 9 generations of the Durham Daisy EX-92 pedigree with a VG or EX score! This family not only transmits offspring with beautiful type, but also high milkproduction! So is this VG-87 All-Star producing quite a lot and is projected in 305 days over 11.000 kgsM.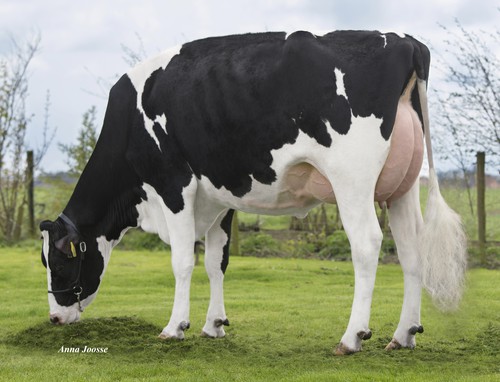 Rhala Daydream 16 EX-90, greatgranddam Daydream 69 VG-87 
Also a daughter of Delta Bookem Danno, from the Chemello Jocko Benge VG-87 family, scored a wonderful VG-87 and even her Dairy Strength and Mammary are classified with VG-88! HMH Camie 7 VG-87 is the 10th 'Jocko Benge' generation with either VG or EX, and if we take a closer look at this proven pedigree, we find cows like Zandenburg Snowman Camilla VG-88 & Anderstrup Laudan Camille VG-89.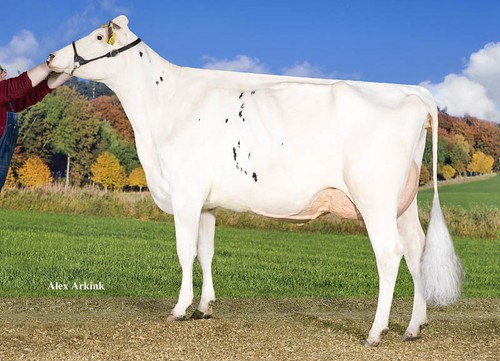 Zandenburg Snowman Camilla VG-88 (s. Snowman). Greatgranddam of Camie 7 VG-87
The Red Holsteins were well represented too by HMH Country 2 P Red a Mr Pat Uno Pace-Red granddaughter of Wilder Coco P-Red VG-86, which is the dam of AI sire Wilder Born P RDC. This Pace-Red got herself a super score of VG-87 with a VG-88 mammary! Country 2 P Red VG-87 is straight from the Apina Massia family!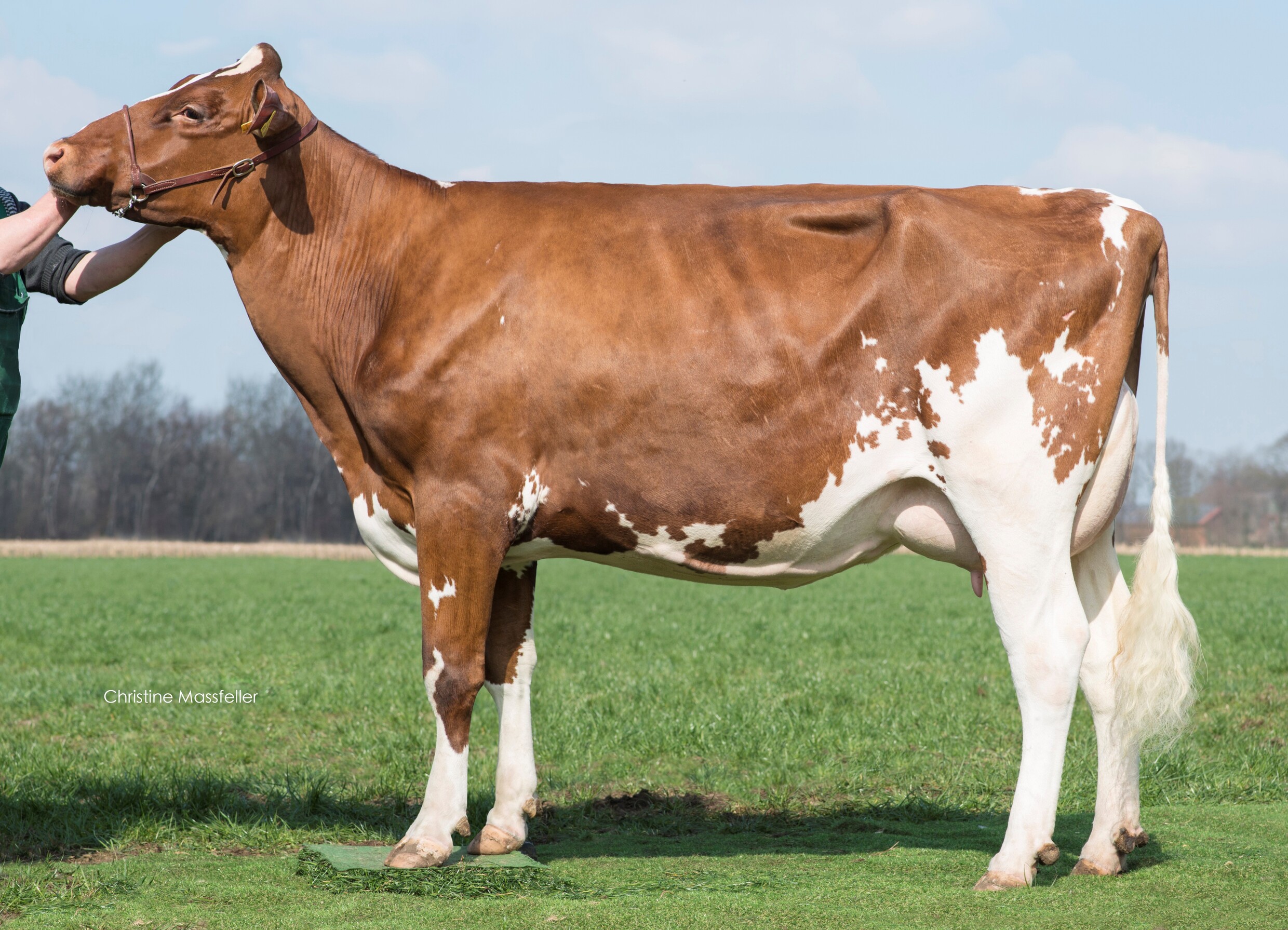 WIlder Coco P-Red VG-86 (S. Aiko RDC) granddam Country 2 P Red VG-87
Besides Country 2 P Red VG-87 another four R&W's got their first score. Their average classification score went even up to 84.6 points! Five out of the twenty 2-yr-olds got a high classification of VG-88 for their mammary, which resulted in an average mammary score of VG-85.8!
| | | | | | | | | | |
| --- | --- | --- | --- | --- | --- | --- | --- | --- | --- |
| Name | Sire | Dam | Col | Lact | FR | DS | MS | FL | TOT |
| Daydream 69 | All Star | Daydream 39 VG-88 | B | 1 | 87 | 88 | 87 | 86 | 87 |
| Camie 7 | Danno | Reflector Camie VG-87 | B | 1 | 87 | 88 | 88 | 84 | 87 |
| Country 2 P Red | Pace-Red | Country P* Rdc GP-83 | R | 1 | 87 | 86 | 88 | 85 | 87 |
| Marrigje 144 | Danno | Marrigje 140 GP-81 | B | 1 | 85 | 84 | 87 | 85 | 86 |
| Pietje 657 | Aikman-RC | Pietje 647 GP-83 | R | 1 | 79 | 86 | 88 | 88 | 86 |
| Sneeker 224 | Esperanto | Sneeker 223 n.c. | B | 1 | 84 | 85 | 86 | 86 | 86 |
| Country 3 P. RF | Esperanto | Country P* Rdc GP-83 | B | 1 | 87 | 85 | 85 | 85 | 86 |
| Sunshine 5 Red | Anreli-Red | Sunshine Rdc VG-86 | R | 1 | 83 | 84 | 88 | 84 | 85 |