GenHotel Selection Sale heifers sold for great prices!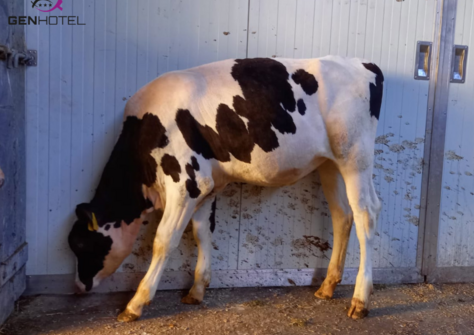 Sales
Lot 2 Exloër Belle: topseller
The 31st GenHotel Selection Sale is closed and several sale heifers were sold for very nice prices! During this online auction attractive heifers from GenHotel members out of the best European and even worldwide cow families are selling. The buyers have taken advantage from these opportunities!
There was quite some (international) interest in the sale heifers. Lucrative embryo contracts were offered for several lot numbers, up to almost €7,000. This made the Selection Sale offer even more attractive and resulted in the following prices:
| LOT | NAme | Sire | Sold to | Price in € |
| --- | --- | --- | --- | --- |
| 2 | Exloër Belle | Bellroy | The Netherlands | 7,000 |
| 4 | 3STAR HWH Betty P RDC | Best Benz | The Netherlands | 6,500 |
| 6 | Batouwe WM Aimee RDC | Mark RDC | The Netherlands | 6,500 |
| 3 | De Wildsheuvel Apple Red | Altitude-Red | Germany | 5,500 |

The topper of this sale is called Exloër Belle (lot 2), which was consigned by Exloër Holsteins. Due to the high value of her embryo contracts and her huge genomic scores of 300 gNVI, 160 gRZG and 2621 gRZ€ (the number 1 gRZG and number 2 gRZ€ Bellroy globally!), she is sold at € 7,000! Lot 4, 3STAR HWH Betty P RDC (by Best Benz) and lot 6 Batouwe WM Aimee RDC (by Mark RDC) follow each with € 6,500. They are both red carriers and we expect them to be influential in the Red Holstein breed in the future. De Wildsheuvel Apple Red was one of the lots which attracted also a lot of attention! She's a Farnear Altitude-Red granddaughter of the world famous KHW Regiment Apple Red-96 herself, not to mention her amazing type and dairyness! Apple Red (offered as lot 3) will continue her way from De Wildsheuvel Holsteins to a Holstein breeder in Germany.
GenHotel congrats sellers and whises all buyers good luck with your great purchases!