The influential Amber PP Red like you have never seen her before!
General
There she is! The first picture of the milking Amber PP Red
The Masterrind Exclusive top seller of 2020, Amber PP Red, has caused a big whirlwind under the wings of Tirsvad Genetics and GenHotel. Her first scores of 2640 gTPI, 380 gNVI, 165 gRZG, 132 gRZE, 156 gRZM and the fact that she is homoyzgoot polled Red made her the fantastic candidate for the joint breeding program. Now, more than three years later, the influence of the Caudumer Solitair P Red daughter is immense for the European, polled  Red Holsteins segment and Amber PP Red more than lived up to all expectations!
Amber PP Red's branch goes back to Mascot daughter Dixie-Lee Aspen EX-92, dam of the progeny proven Dixie-Lee Aaron. In addition to 15 generations of VG/EX in a row, this pedigree also brings positive components and a lot of milk. Amber's great-granddam (Aida MR RDC VG-86) is also the granddam of former sire of sons and number 1 red factor RZG sire Gywer RDC, which already has more than 5000 lactating daughters in Germany. Currently, the genomics profile of the 3-yr-old breeding cow shows 145 RZG and 2622 TPI. In January, Amber calved after being regulary flushed and then rose to a daily production of more than 38 kgM.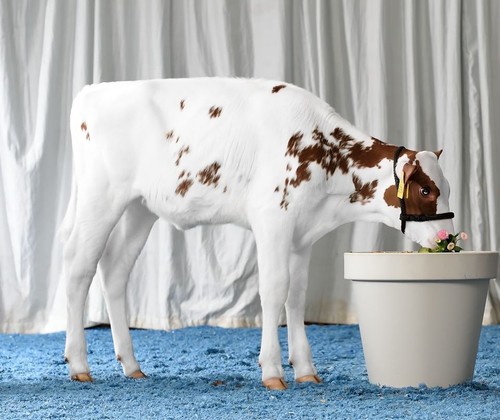 Amber PP Red (Solitair P Red x VG-85 Abi Red PP x VG-87 Powerball P) captured on camera for the first time
For her owners, the young Solitary P Red bred about 40 offspring before the start of her first lactation, of which no less than 7 sons were sold to various AI stations. Examples are 3STAR TV Ambo P Red @ Semex, 3STAR Tirsvad Ranking P Red @ RUW, Tirsvad 3STAR Malito PP Red @ Qnetics and the most famous is the number 1 PP Red Holstein bull of Germany: Tirsvad 3STAR Member PP Red @ RUW/RSH! These Amber sons, like their dam, will be of great influence within the European Red Holstein breeding, because they are now widely used as sire of sons by sire analysts.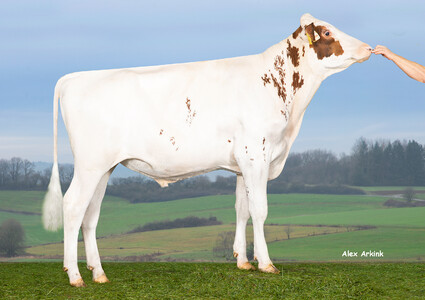 Tirsvad 3STAR Malito PP Red (Matty P RDC x Amber PP Red) @Qnetics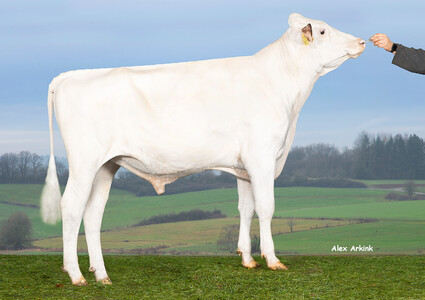 Tirsvad 3STAR Franklin P Red (Freestyle-Red x Amber PP Red) @Qnetics
There are also plenty of opportunities for the female offspring to follow in their dam's footsteps. Embryos from daughters have already been exported to various countries, including embryos from 3STAR Ambera P Red, a Ranger-Red and also full sister of the before mentioned Ranking P Red. Ambera is one of the favorite daughters and shows a high potential RZG and TPI profile. She scores 153 gRZG and 2743 gTPI with a godo amount of milk and fantastic type (136 gRZE / +2.00 gPTAT).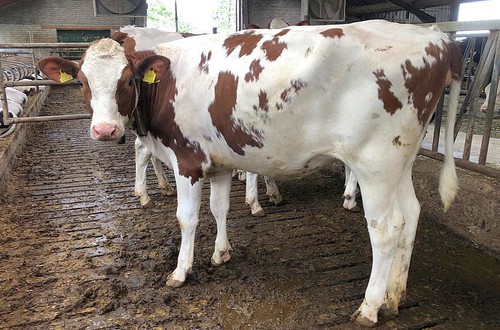 3STAR Ambera P Red (Ranger-Red x Amber PP Red) produced embryos by Tricky Red!
Right now, 3STAR Genetics offers you multiple of opportunities to upgrade your herd with offspring from this influential, homozygous polled Aspen offspring! For example, embryo combinations are available from daughters Amster PP Red and Ambera P Red, but you can also get embryos produced with (sexed) semen of the 156 gRZG testing Member PP Red via a paternal line! >>> Click Here!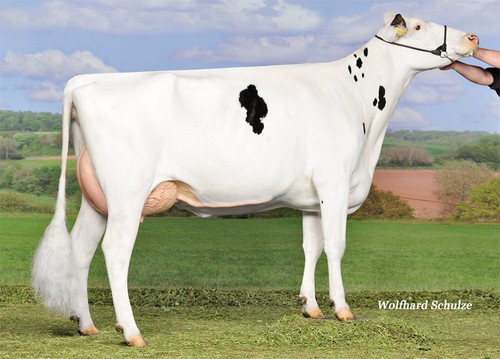 Granddam: Aida MR RDC VG-86 (Snow RF x VG-85 Observer)