Sky-high GNVI for Midwolder K&L Marjon 40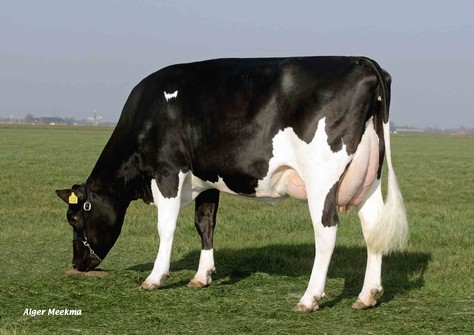 Midwolder K&L Marjon 40 scores at least +439 GNVI and is one of the highest genomic tested heifers in the Netherlands. This Esperanto has extremely high breeding values for longevity and udder health and she also scores +116 for conformation.
Marjon 40 is, just has her dam Midwolder K&L Marjon 136, owned by Midwolder Holsteins and K&L. Marjon 136 is now one week fresh and she looks pretty good. She also has offspring sired by Sound System (3x) and Simba (1x). This pedigree goes via daughters of Rocky, Trigger and Mascol back at Midwolder Marjon VG-87 (O Man), dam to Midwolder Goldday and a full sister to Etazon Renate VG-86.

Midwolder Marjon 53 VG-85, the Trigger great-granddam to Marjon 40 RDC 1