Several top genomic results for Koepon!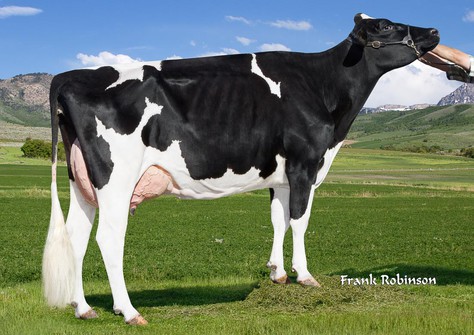 Genomics
Pine-Tree Dorcy Alexa VG-88, 5th dam of Koepon Zazzle Anita 5 & 6
The USA May genomic proofs run has yielded great results for Koepon Genetics. No less than 5 newly tested Koepon females are in the top 50 gTPI in Europe this month.
Koepon Zazzle Anita 6 is the highest of 4 Peak AltaZazzle daughters at Koepon with 2923 gTPI, making her one of the highest 5 AltaZazzle daughters in Europe. Also on the German basis she scores with 159 gRZG in the top 5 of her sire in Europe. Her dam is the pregnant heifer Koepon AltaMilestone Anita 3, a descendant from the American Pine-Tree Dorcy Alexa VG-88 family. Anita 6 her full sister Koepon Zazzle Anita 5 is also in the top 50 of May with 2858 gTPI.
Two AltaZazzle daughters out of Koepon Date Range 10 RDC (by Peak AltaDateline) also have very favorable results: Koepon Zazzle Range 30 RDC and Range 31 RDC score resp. 2922 and 2906 gTPI! Moreover, both are red carrier, which comes from their super transmitting granddam Lakeside UPS Red Range VG-85. This makes them by far the number 1 and 2 gTPI red carrier females in Europe and possibly the very highest worldwide. One of the highest Red Holsteins in May is Koepon Sput Range 33 Red, a K&L Sputnik RDC out of Koepon Swingman Range 2 Red, with 2758 gTPI. Red Range, the already legendary "Giant Red Genomics Transmitter" has more than 40 female offspring at Koepon and 16 direct sons in AI in 2 years!
The fifth top 50 ranking of Koepon this month is for Koepon Moline Ruby 73, a Peak Moline with 2851 gTPI out of the not yet calved Koepon Hotjob Ruby 33. The foundation cow of the Koepon Ruby line is the well-known brood cow Regan-Joy Durham Regenia EX- 92.
Beeze Oldleus Jolien, an OCD Helix Milford from the family of show diva Lavender Ruby Redrose-Red EX-96, scores no less than 85 points gTPI above her parent average. With 2918 gTPI she is by far the number 1 gTPI Milford daughter in Europe and the number 3 Milford globally, a welcome addition to her owners Beeze Holsteins & Oldleus Holsteins.
In terms of conformation, 2 red carrier Lindenright Moovin RDC daughters of K&L KD Wilma distinguish themselves: 3STAR MV Wish RDC is the number 3 PTAT this month with +3.62 PTAT, while her full sister Buiteneind 3STAR Wish 1 RDC scores +3.57 PTAT. Wilma is a recently calved Woodcrest King Doc from the Juniper Outside Wish EX-95 family. 3STAR AD Ciracha, out of the beautiful Larcrest Crimson EX-94 family, is one of the highest Luck-E Undenied Admiral daughters for type in Europe with +3.37 PTAT.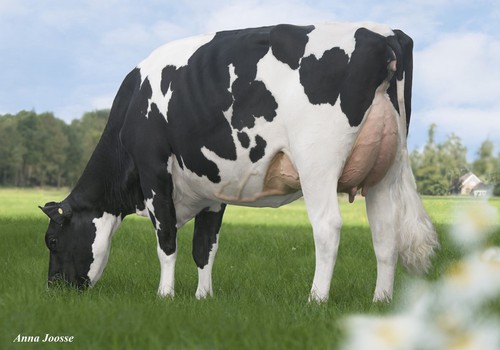 De Oosterhof Dg Rose RDC (s. Rubicon), 3rd dam of
                                                      Koepon Zazzle Range 30 RDC and Range 31 RDC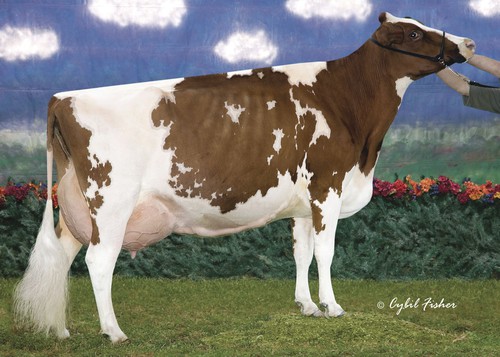 Lavender Ruby Redrose-Red EX-96, in the pedigree of Beeze Oldleus Jolien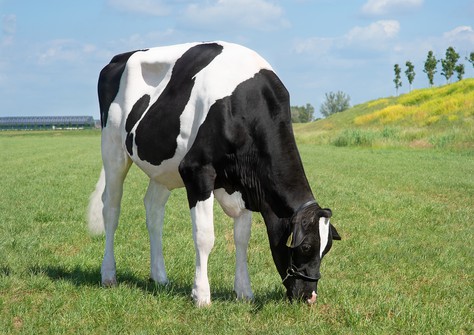 K&L KD Wilma (King Doc x Solomon), dam of 
                                          3STAR MV Wish RDC and Buiteneind 3STAR Wish 1 RDC