Rhala Red Misswalker reaches Excellent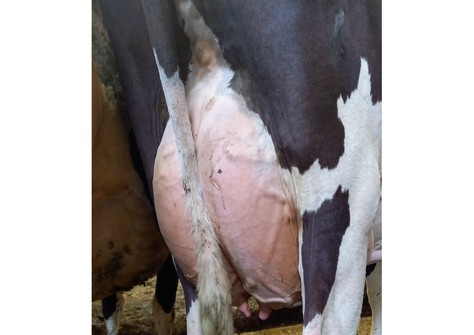 General
Rhala Re Misswalker scored EX-90 for her Mammary
Recently, the Van der Steege family of Rhala Holsteins & Excellent Genetics received a visit from the excellent committee of the Dutch herdbook. Bomaz Skywalker daughter Misswalker, already classified VG-85 as a 2-yr-old, managed to increase her score and is currently the highest scored daughter in the Netherlands of this American bred sire.
Rhala Re Misswalker is a third lactation Skywalker out of a VG-87 point Heisenberg, going back to the Italian cow family of Bel Iron Irene EX-90. Misswalker has two daughters present at Van der Steege's farm, a pregnant EDG Rubicon that will freshen very soon for the first time and a heifer calf from her third calving in January, by Sandy-Valley Lovoo. Her current lifetime production stands at 23,366 kgs of milk in 666 days. Aged 2.00 years, Misswalker was already  good for VG-85 with VG-87 F&L. Meanwhile, the Skywalker managed to increase her score to EX-90 with EX-92 F&L and EX-90 MS.
Dam Rhala EX Lynette VG-87 was for a long time the No. 1 gTPI of her age with an outcross sire stack. One of her highest daughters is the now second calver Rhala Re Lytime VG-85, sired by Ste Odile Milktime (Duke x Supershot) and still scoring 2702 gTPI. Fourth dam, a VG-86 Snowman from Bertaiola Bolton Lidia VG-86, was sold in 2011 for € 40,000 partly due to her high indexes in Canada, America and Germany. This made her one of the highest scoring Snowman daughters in Europe.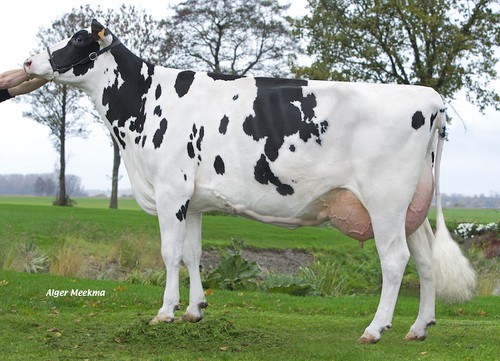 4th Dam Ven Dairy Lidia 4 VG-86 (s. Snowman)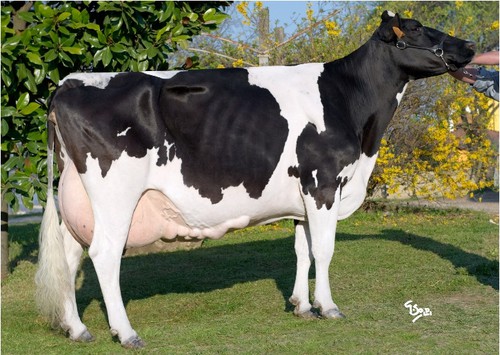 6th Dam Bel Iron Irene EX-90 (s. Boss Iron)