New picture Poppe Fienchen 580 RDC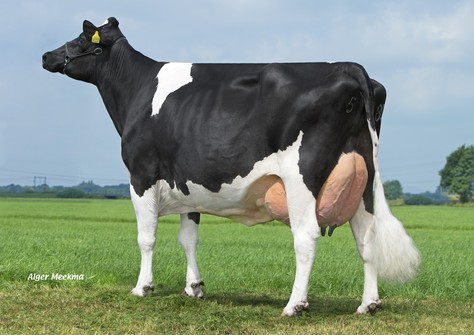 Genomics
Poppe Fienchen 580 RDC VG-88
The impressive powerful Poppe Fienchen 580 RDC VG-88 is pictured again. The Stol Joc daughter looks great in her 3rd lactation and is projected at over 19.000 kg of milk (in 305 days!). Her pedigree goes back at the great broodcow Elites-JSJ Fac Feebe-Red EX-92 and Fienchen 580 has quite a lot of interesting offspring as well.
Danillo x Fienchen
A combination that worked really well is Danillo x Fienchen 580 RDC. Hailing from this combination is Poppe Fienchen 804, the dam to Boss son Poppe Ferdi @ KI Kampen. She milks just like her dam and is projected at 17.447 kg of milk with 3.69% protein in her 2nd lactation. Maybe even more interesting is her full sister, Poppe Fienchen 803 RDC VG-86. She has daughters at Poppe Holsteins including; Poppe Fienchen 1134 RDC (+258 GNVI / +147 GRZG; Silver), Poppe Fienchen 8685 Red (+298 GNVI / +142 GRZG; Colorado), Poppe Fienchen 972 RDC (+267 GNVI / +136 GRZG; Rocky) and Poppe Fienchen 944 Red (+230 GNVI / +136 GRZG; Perfect Aiko). A Perfect Aiko son of Fienchen 803 RDC is sold to VOST.
Fienchen offspring at GenHotel
Aalhorst Holsteins owns also an Apoll P Red daughter of Fienchen 803 RDC. This Aalshorst Fienchen 12 P Red scores +262 GNVI / +138 GRZG and will be flushed later this year.
At Den Hamer Holsteins you can find Den Hamer Red Hot Amor Fientje RDC, a VG-86 classified Amor Red daughter of Fienchen 580 RDC. She is accomplished by daughters of Effort and Balisto in the herd of Den Hamer Holsteins. Her most interesting daughter is the red carrier Balisto Den Hamer Red Hot Feebe RDC. She scores +275 GNVI and +148 GRZG.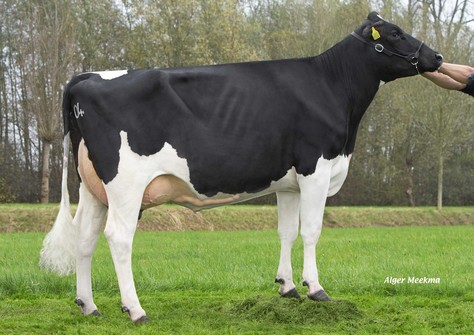 Poppe Fienchen 804 VG-88 (Danillo x Poppe Fienchen 580 RDC)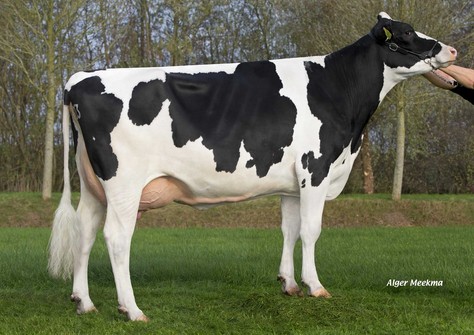 Poppe Fienchen 803 RDC VG-86 (Danillo x Poppe Fienchen 580 RDC)