New genomics EU females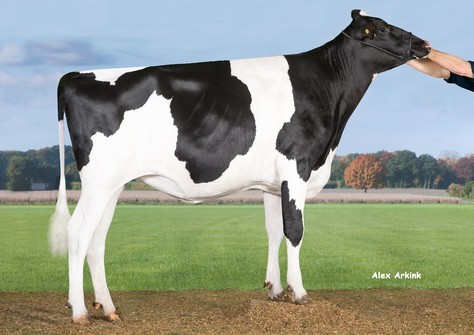 Genomics
K&L OH Mabel, the number 1 gTPI Progenesis Granite globally
Also the USA genomic results of females in Europe are released. The Council on Dairy Cattle Breeders, the CDCB, has changed the calculation of the DPR proofs already in April. The reason for this adjustment is a larger-than-expected variation in CDCB fertility traits in April last year. The influence of the changed calculation of proofs was already visible in April, but has even more impact in the August proof run.
In average DPR decreased with 1.1 point, TPI with 60 points and Net Merit with 20 points. 
The top 100 gTPI females in Europe include following heifers of GenHotel members:
► K&L OH Mabel, a Progenesis Granite daughter with 2807 gTPI, owned by De Oosterhof and GenHotel. Mabel is not only the number 1 gTPI Granite Europe, she is also the number 1 Granite globally! Her first calves will be born soon.
► Koepon Lawson Ruby 25, of Koepon Genetics, is with 2796 gTPI the number 1 Peak AltaLawson daughter in Europe. Her dam is Koepon Hotline Ruby 11, out of the renown Regan-Joy Durham Regenia EX-92 family. Also Ruby 25 her full sisters Ruby 23 & 24 are present in the European top 100 gTPI.
► Koepon Lawson Ruby 22 (2770 gTPI), is also an AltaLawson daughter from the Regenia family, although her dam is Koepon Topshot Ruby 5, a Peak AltaTopshot maternal sister of Ruby 11.
► K&L OH Mirror, the worldwide number 1 gTPI Mr Rubi Agronaut daughter out of the successful Seagull-Bay Oman Mirror VG-86 family. Mirror, owned by De Oosterhof and GenHotel, scores still 2769 gTPI and also her calves will be born soon.
► K&L OH Mindy, a Redrock-View Klutch daughter with 2764 gTPI, is backed by the Mirror family. She is the highest gTPI daughter of Mr Mogul Delta-daughter ALH Modest and co-owned by De Oosterhof and GenHotel. Mindy is also the number 1 gPFT Redrock daughter worldwide on the Italian base.
► Koepon Swingman Range 2 Red belongs with 2763 gTPI to the very highest red females worldwide and is the number 1 Net Merit and the number 2 gTPI red Westcoast Swingman-Red daughter. Her full sister Koepon Swingman Range 1 Red is the number 3 NM and number 3 gTPI red female globally.
► Koepon Duke Ruby 14 is a daughter of the number 2 TPI proven sire S-S-I Montross Duke and is with 2757 gTPI the highest Duke-daughter in Europe.
► HLB Berberitze of Lindenhof Holsteins in Germany is the number 2 Cal-Roy-Al Yoda daughter in Europe and descending from the great American Richmond-FD Barbie EX-92 family.
► Koepon Nitro Sophia is the highest scoring G-Deruyter AltaNitro daughter in Europe. Her dam is Peak Sophia VG-87 (s. Monterey), a maternal sister of bulls as Pine-Tree Prophecy en OCD Spring Slamdunk.
► Wilder Herzol P owned by the Holtkamp family in Germany is with 2733 gTPI and 936 NM the number 1 gTPI and number 1 NM Progenesis Modest Rolan daughter in Europe. She is also one of the highest polled females in Europe and a daughter of the full sister of the high polled Wilder Hotspot P (Superhero x Powerball P).
► Drouner K&L Classy 1662 scores both in the USA and Germany high on genomics, resp. 2727 gTPI and 162 gRZG. She is the number 3 gTPI De-Su Kenobi daughter in Europe, out of the Koepon Classy family and owned by Drouner Holsteins and GenHotel. Dam is Drouner K&L Classy, a promising Endco Superhero daughter.
► Rhala Re Lytime, of Rhala Holsteins and Reer Genetics, is with 2723 gTPI the number 1 gTPI Ste Odile Milktime daughter in Europe. She has with Milktime x Heisenberg x Tango x Meridian an alternative pedigree and is descending from the Italian Bel Iron Irene EX-90 cow family.