New female top 100 NVI R&W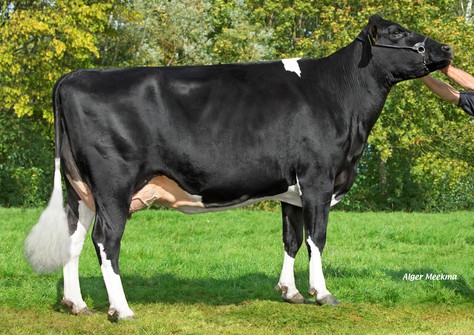 General
Caudumer Lol 342 P RDC VG-87
It took some time, but since this week the official top 100 list NVI ​​for females in The Netherlands and Flanders  has been published. The black and white as well as the red and white list is filled with numerous females from GenHotel members. The red and white NVI list includes an astonishing number of 27 heifers.
The highest-ranking member of R&W is the Jacuzzi half-sister of sire Caudumer Batch P: Caudumer Lol 434 P Red bred by Caudumer Holsteins. She scores a stunning 341 NVI (No. 2 Polled) and with 782 LVD she is the number 4 for longevity (LVD). Lol 434 P Red is a daughter of the beautiful Caudumer Lol 342 P RDC VG-87, a high polled Rocky out of Lol 292-Red P VG-87. Lol 434 P Red is not the only descendant of Lol 292-Red P in the top 100 NVI: there are no less than four other Lols in this top list, three of which are bred by Haytema. These are Caudumer 442 Red 327 NVI (Jacuzzi x Esperanto), Caudumer 441 Red 321 NVI (Jacuzzi x Esperanto) and Caudumer Lol 435 P Red 316 NVI (Jacuzzi x Rocky).
In addition to the Lol family, Caudumer Holsteins is also successful with the Zalia herd. The flush of Finder daughter Caudumer Zalia 2 RDC VG-87 with Jacuzzi-Red resulted in three high red daughters in the top 100 NVI. For example, one of these great daughters Caudumer Zalia 8 Red scores, besides 320 NVI, also +0.67 % fat and +0.17 % protein in the Netherlands! This cow family produces an extremely high fat and protein percentage on both German and Dutch bases, something that can be found generation after generation.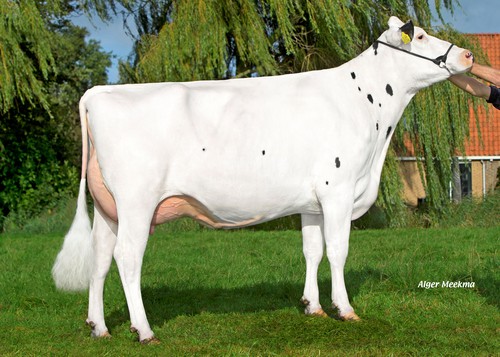 Caudumer Zalia 2 RDC VG-87 (s. Finder)
Dutch 'Breeder of the year 2019' Bouw Holsteins managed to reach the top in the red NVI list with three animals. Highest in the list is Bouw Andy Raisa Red. This Andy-Red granddaughter of OH DG Rose RDC VG-87 has a super 335 NVI and with 560 INET, she is listed on place 6. Sudena Holsteins, owner of Rose RDC VG-87, has her daughter Sudena Roxita Red (s. Elixer Red) in the top 100 NVI. She impresses with 111 for conformation, and is therefore in shared second place in this ranking. For NVI she scores a nice 303. A cow family that, in addition to TPI and RZG basis, certainly also triggers on NVI!
Of course, the Massia family should not be missing from the top 100 red NVI list. Red Rocks Holsteins contributes to this by breeding Red Rocks Massia 208 Red with 303 NVI. Massia 208 Red is a Gywer RDC out of Red Rocks Massia 155 Red, a high Wisent RF daughter. This Gywer daughter also scores 154 gRZG in Germany.