New classification for De Wijde Blik Hiawatha 7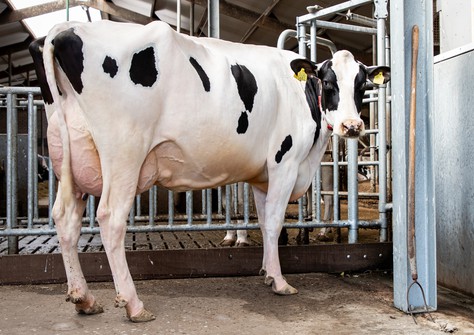 General
De Wijde Blik Hiawatha 7 is now VG-89 (EX-90 MS)
De Wijde Blik enjoyed another beautiful classification round last week! A total of 10 animals were classified by the Dutch Herdbook, including a re-classification for the third calver De Wijde Blik Hiawatha 7.
The Wijde Blik Hiawatha 7 is a third lactation Jetset daughter from the Mayerlane-DK Hiawatha EX-90 branch of the well-known Golden-Oaks Mark Prudence EX-95 family. The average 305-day production of this Hiawatha 7 shows a huge average for her first 3 lactations of 10,333 kgs of milk, 5.01% fat and 3.70% protein! The Jetset out of a VG-87 Quatro Patrick was good for a stunning VG-89 (EX-90 MS).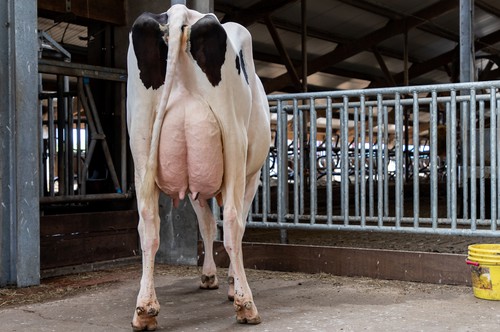 De Wijde Blik Hiawatha 7 VG-89 (s. Jetset)
Among the 2-yr-old milking heifers De Wijde Blik Hendrika 86 was the one to beat. The granddaughter of well-known Braedale Goldwyn daughter Prairie Hoeve Hendrika 39 EX-91 reached the VG-88 (VG-88 MS). Hendrika 86 VG-88 is a daughter of the bull Lone-Oak-Acres AltaRoble and has just been fresh for two months.

Prairie Hoeve Hendrika 39 EX-91
From the same sire, the just one month fresh De Wijde Blik Jolein 11 enjoyed a great score. She received a beautiful VG-86 with VG-88 Feet & Legs! Jolein 11 VG-86 comes from the well-known show cow of De Wijde Blik, namely De Wijde Blik Jolein 5 EX-90 (by Moonboy).
Nijman's nine heifers reached an average total score of 84.1 points. Below you will find an overview with the highlights!
| | | | | | | | | | |
| --- | --- | --- | --- | --- | --- | --- | --- | --- | --- |
| Name | Sire | Dam | Col | Lact | FR | DS | MS | FL | TOT |
| Hiawatha 7 | Jetset | Hiawatha 5 VG-87 | B | 3 | 87 | 89 | 90 | 86 | 89 |
| Hendrika 86 | AltaRoble | Hendrika 85 VG-85 | B | 1 | 88 | 87 | 88 | 87 | 88 |
| Jolein 11 | AltaRoble | Jolein 7 | B | 1 | 85 | 85 | 85 | 88 | 86 |
| Ina 57 | Jetbead | Ina 48 GP-83 | R | 1 | 82 | 85 | 86 | 85 | 85 |
| Ina 58 | Rozwell | Ina 50 VG-85 | R | 1 | 86 | 85 | 84 | 87 | 85 |