Moonen & GenHotel bred the no. 1 female R&W RZG & RZ€!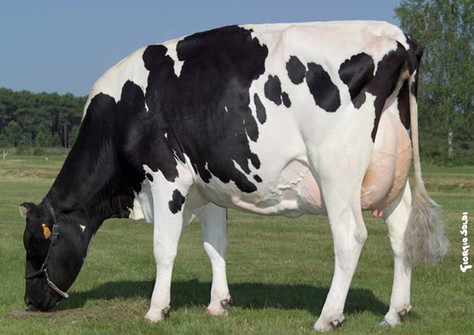 General
Radieuse EX-91 high impact brood cow!
A gigantic German index came in this week for HMH 3STAR Flash Red bred by HM Holsteins and GenHotel. The red Poppe Freestyle-Red daughter from the Radieuse EX-91 family - from which KNS Boss, KNS Brasileiro and BG Radames RDC also descend - is making its way to the top of the RZG lists!
With a stunning 172 gRZG and 2996 RZ€, HMH 3STAR Flash Red is the current number 1 gRZG and gRZ€ female! Her index is backed by 156 RZM, positive components, high health traits, 122 EUT and 132 RZE. 
The Solitary P Red dam of Flash Red was born from an embryo purchased by Moonen through the 3STAR Embryo Program! Flash Red's granddam is Royal Flash RDC (by Westcoast Styx Red) which was purchased by Caudumer Holsteins - with 334 gNVI and 161 gRZG (144 gRZN) at the time - at the Top-Genetik Auktion in 2018. Meanwhile, Royal Flash RDC is in second lactation and will produce 10,633kg of milk with 4.01% fat and 3.47% protein in 305 days. 
Not only Caudumer and HM Holsteins contribute to the success of HMH 3STAR Flash Red, but KNS Holsteins is also reflected in the success story of this new R&W gRZG star. It is with foundation cow  Radieuse EX-91, an EX-91 Jocko where the success of this cow family began. The French breeding cow was imported by GenHotel when KNS Holsteins bought the French cow. The Niermann family generated several offspring by flushing Radieuse and thus their well-known 'KNS R' line to which, among others, KNS Rendezvous VG-85 (by Man-O-Man) - dam of KNS Boss - belongs.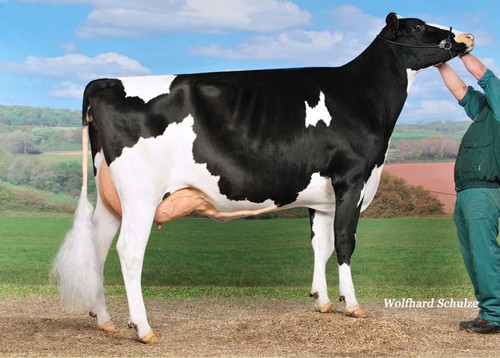 KNS Rendezvous VG-85 (s. Man-O-Man), 5th dam of Flash Red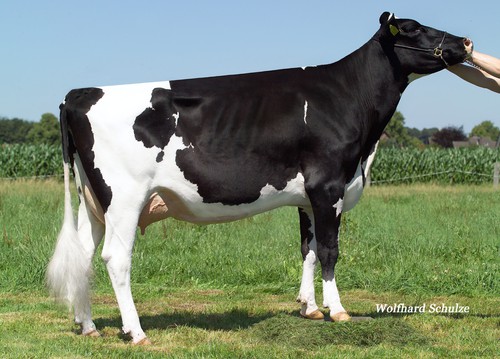 KNS Riviera VG-86 (s. Goldwyn), 6th dam of Flash Red