Maternal sister of Solitair P Red & Snickers P Red classified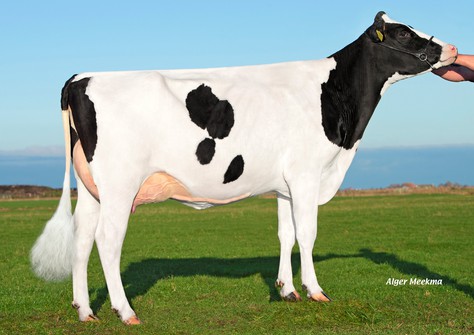 General
Caudumer Lol 371 P RDC VG-86, dam of Solitair P Red & Snickers P Red
The Caudumer Lol family is one of Haytema's (Caudumer Holsteins) great bill boards and has become very famous in the Holstein breeding in Europe through the polled sires Caudumer Solitair P Red & Caudumer Snickers P. So the VG classification score of their maternal sister didn't come as a suprise.
The maternal sister of the sire of sons Solitair P Red & Snickers P is  recently classified with VG-85 and VG-86 MS. Caudumer Lol 419 P Red VG-85 is sired by Westcoast Styx Red and is a daughter of Caudumer Lol 371 P RDC VG-86 (by Balisto). Both Lol 419 P Red VG-85 and her dam were heavily contracted for embryos, which led to high RZG and NVI offspring.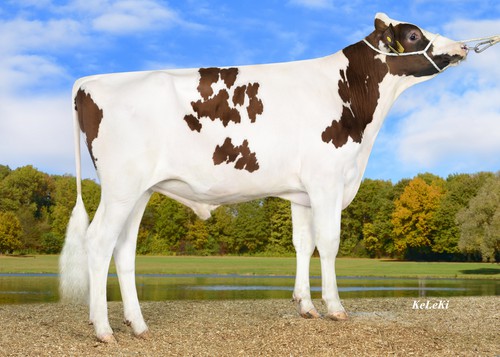 Caudumer Solitair P Red, 160 gRZG (Mr Salvatore RDC x Lol 371 P RDC VG-86)
Another classified member of the Lol family is Caudumer Lol 416 RDC, sired by Weelder Esperanto. Lol 416 RDC ended the day with a great score of VG-85 and got VG-88 for her Frame as well as her Dairy Strength. This Esperanto daughter from the Lol family is confirming her genomics with a production of 4.54% fat & 3.74% protein!
Haytema owns another milking Esperanto: Caudumer Lol 415 RDC, dam of Caudumer Lol 442 Red (top 100 gNVI R&W) & Caudumer Lol 448 RDC (top 50 gNVI B&W), shows with these high daughters on NVI basis that she's a true transmitter! But that's not all, because for her the classification day was also successful with a total score of VG-85!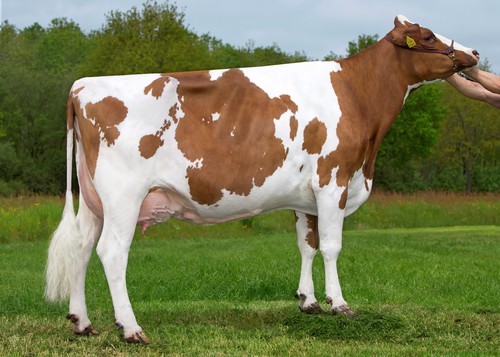 Caudumer Lol 292-Red P VG-87 (s. Lawn Boy P Red), brood cow of the Lol family
Several years ago the Haytema family purchased Stantons Adagio P embryos from the 'Wilder-M' family. This resulted in the birth of Caudumer MM 2 P, who is fresh in first lactation now. She was classified with the maximum score of VG-89 for her Mammary System, which resulted in a total score of VG-87. Caudumer MM 2 P VG-87 her gramddam is Wilder Meggy VG-86 - dam of daughterproven sire Wilder Marzipan @Xenética Fontao.

Wilder Meggy VG-86 (by Boss), granddam MM 2 P VG-87
The average total score of the six classified milking heifers was a very nice VG-85.3! Check the list below with the highlights from this classification day at Caudumer Holsteins: 
| | | | | | | | | | |
| --- | --- | --- | --- | --- | --- | --- | --- | --- | --- |
| Name | Sire | Dam | Col | Lac | FR | DS | MS | FL | TOT |
| Sabine 8 | Un. | Sabine 7 n.c. | B | 1 | 87 | 88 | 87 | 87 | 87 |
| M M 2 P | Adagio P | MM n.c. | B | 1 | 85 | 86 | 89 | 87 | 87 |
| Lol 416 RDC | Esperanto | Lol 351 Red GP-84 | B | 1 | 88 | 88 | 85 | 84 | 86 |
| Lol 419 P Red | Styx Red | Lol 371 P RDC VG-86 | R | 1 | 85 | 83 | 86 | 84 | 85 |
| Lol 415 RDC | Esperanto | Lol 389 Red VG-85 | B | 1 | 86 | 86 | 85 | 83 | 85 |