Barbara & Subliminal win 'All American 2020' titles
General
All-American 2020 Winners are released!
The 'All-American 2020' winners were presented recently! The All-American contest, containing several age categories, has an important and global recognizance in the Holstein breeding. In the 'Lifetime Production Class' two outstanding cows won the titles and both of them have offspring at GenHotel-members and in the 3STAR Breeding Program. 
'All-American Lifetime Production Cow 2020'
It's Butz-Butler Gold Barbara EX-96 which is named as 'All-American Production Cow 2020'! The Goldwyn granddaughter of Regancrest-PR Barbie EX-92 is owned by the Gold Barbara LLC syndicate. Barbara EX-96 is a great producer, shows tremendous longevity and has already a huge show carrier. As a 4-yr-old she already has won the 'All-American' contest and now years later she can add another title to her endless list! Some of her highlights:
Intermediate Champion World Dairy Expo 2013
All-American 4-Year-Old 2014
Res All-Canadian Aged Cow & High Honorable Mention All-American Aged Cow 2016
1st Aged Cow, Senior and Grand Champion NY Spring Show 2017
1st 150,000 lbs Cow & Grand Champion Holstein, World Dairy Expo 2019
'ALL-AMERICAN LIFETIME PRODUCTION COW 2020'
K&L Schuit Anna and Schuit K&L Barbara are Woodcrest King Doc great-granddaughters of Barbara. Their granddam is the beautiful Ms Gold Barbara Brooke EX-91, a Val-Bisson Doorman from Barbara. Anna scores +3.38 gPTAT and her first daughter, Schuit 3STAR Alina, is a Lindenright Moovin RDC with +3.33 gPTAT.
Winstar-Mh Empire Maker (s. Saloon) is one of the highest gPTAT sires at this moment. Through a VG-85 Kingboy and EX-93 Doorman he also descends from Butz-Butler Gold Barbara EX-96. Maker is easy likeable because of his +3.23 gPTAT and a nice UDC +2.28. Besides these skyhigh conformation scores Maker also transmits a lot of milk and is A2A2.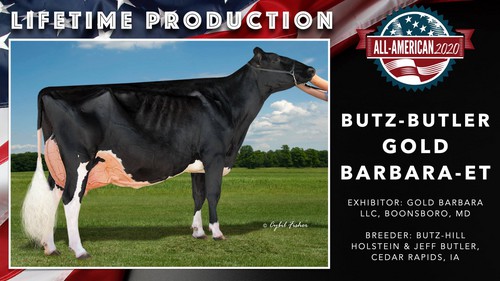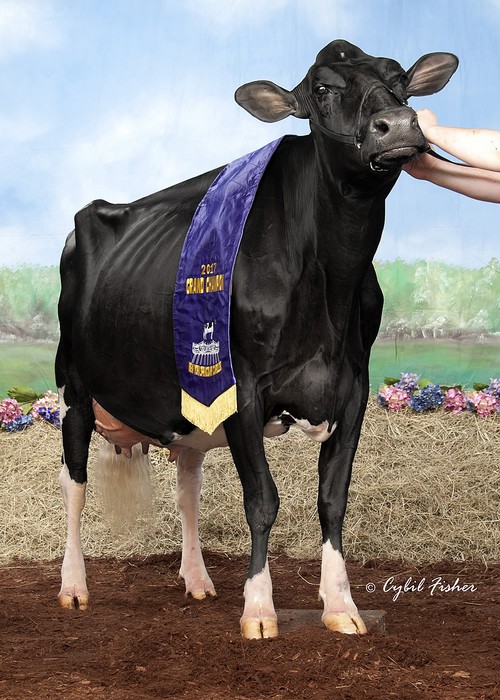 Grand Champion NY Spring Show 2017
Subliminal is 'Reserve All-American Production Cow 2020'
Blondin Goldwyn Subliminal EX-96 is named Reserve All-American Production Cow 2020. Subliminal EX-96 comes from the Blondin Skychief Supra EX-93 family. Some impressive offspring are Riethil Sublime (s. Crush), BWN Verheul Sub (s. Crush), Budjon-Vail Sebiscuit RDC VG-88 (s. Awesome) and Blondin Success (s. Raptor). The well-respected EX-96 Goldwyn-daughter has built up quite an impressive reputation during the past years and is a real role model for the US Holstein breeding.
• Junior All-American Aged Cow 2015
• Grand Champion International Jr. Holstein Show 2015
• Supreme Champion WDE Junior Show 2015
• All-Canadian Mature Cow 2016
• 1st 150,000 lb. Cow International Show 2017
• All-American 150,000 lb. Cow 2017
• 'RES. ALL-AMERICAN LIFETIME PRODUCTION COW 2020'
► Attention: Unique offer!
​Drouner Holsteins and GenHotel co-own the beautiful Blondin Raptor daughter from Subliminal EX-96, Blondin Success. Success has been flushed recently with MAKER and these embryos are available now! Get the best of two All-American Champions and invest in these very exclusive embryos with both Barbara EX-96 and Subliminal EX-96 in the pedigree!
Lot 480 WINSTAR-MH EMPIRE MAKER [SEXED] x BLONDIN SUCCESS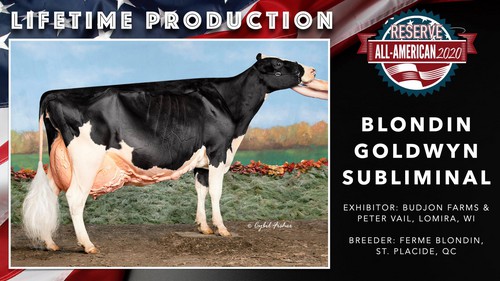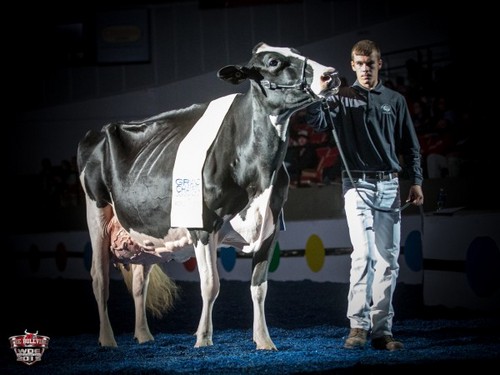 Supreme Champion World Dairy Expo 2015
> Find al the All-American 2020 winners HERE  <