Lindenhof Holsteins shares new pictures!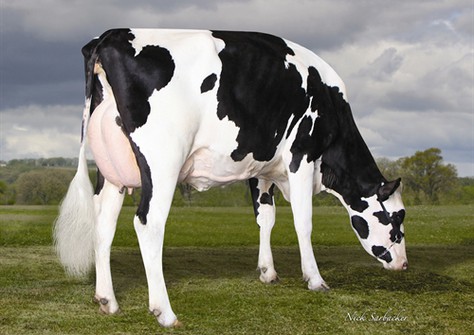 General
Richmond-FD S Barbara EX-90, daughter of foundation cow Richmond-FD Barbie EX-92. A cow family which marks!
Recently, some dairy cows that have a big influence in the breeding programm of Lindenhof Holsteins were being photographed. The Höhler family owns very influential cow families, which are successfull in the European Holstein breeding!
One of the most successful cowfamilies at Höhler is the Richmond-FD Barbie family, a cow family that breeds especially well in the TPI system. Especially HLB Twitch Bora (by Mr Farnear Helix Twitch-Et) ranks particularly well on TPI with a very high index: 2925 gTPI! Her dam is the first calver HLB Berberitze. During her first milk recording she already produced 35kgM with 5.63% fat. Berberitze is sired by Cal-Roy-Al Yoda out of Höhler's famous 85-point HLB Bermuda (s. Detour). Both HLB Berberitze and HLB Bermuda VG-85 are photographed!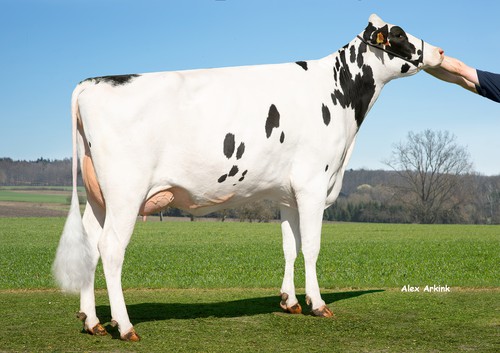 HLB Berberitze (Yoda x HLB Bermuda VG-85)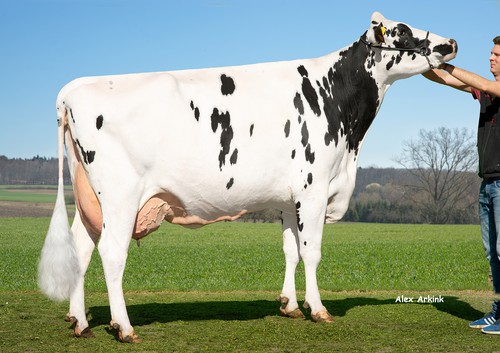 HLB Bermuda VG-85 (Detour x HLB Baccara VG-87) 
The lovely HLB Ortega VG-86 is a descendant from the HLB Binale VG-88 branch of the Richmond-FD Barbie EX-92 family. On RZG basis she is the number 1 Avicii daughter in Germany, and her dam HLB Olala VG-85 is also one of the highest scoring Jetset daughters based on RZG! Ortega VG-86 by Avicii classified VG-86 as a 2-yr-old and produces 4.87% fat and 3.46% protein. She's the dam of a Best Benz son at Qnetics.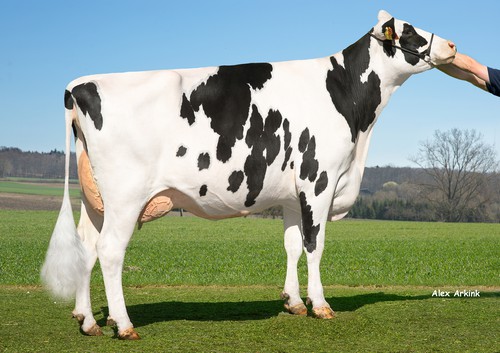 HLB Ortega ET VG-86 (s. Avicii)
​A few years ago GenHotel delivered embryos from the combination Mr Salvatore RC x Oelhorst Coba 39 P Red VG-86 to Qnetics. These embryos were then transfered at Lindenhof Holsteins after which HLB Coba P RDC, now in second lactation, was born. This Mr Salvatore RC from the durable Oelhorst Coba's was classified with VG-86 3-yr-old, and is therefore the 10th generation with VG/EX in a row! The mating with sire of sons KNS Simon P resulted in an interesting bull which is now owned by Qnetics.

HLB Coba VG-86 by Mr Salvatore RC)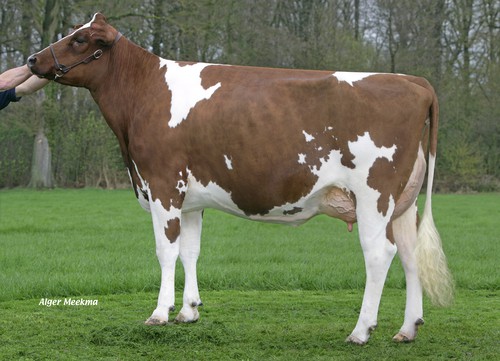 Oelhorst Coba 196 P Red VG-86, Lawn Boy P-Red granddam of HLB Coba VG-86.