HET Adora Chanel VG-86 pictured!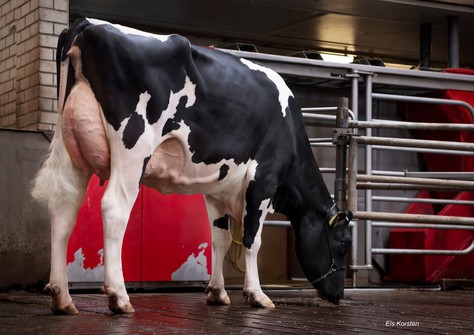 General
HET Adora Chanel VG-86, VG-87 MS
The 2-yr-old HET Adora Chanel VG-86 (by Stantons Adorable), owned by Hurkmans ET, descends through her granddam Roccafarm Beacon Chrissy VG-87 from the well-known Larcrest Juror Chanel EX-93. Chanel VG-86 was purchased by Hurkmans as an embryo out of the high producing De-Su Balisto daughter Diepenhoek Chanel VG-87 and is already influential in the Hurkmans' breeding program.
HET Adora Chanel VG-86 already stood out as a young heifer, due to her complete profile with high scores for TPI, NVI and RZG. As a yearling she was flushed several times with sires of sons such as Denovo 8084 Entity, Regan-Danhof Copyright and Gywer RDC. The flush with the last named bull proved to be the most successful, since from this combination delivered the very high-testing HET Gywer Chayenne RDC. Her amazing qualities, combined with her top pedigree, make her very likeable. During the HighlightSale in January 2020 she was sold to a German breeder for € 6,500. Her current profile still shows a high 158 gRZG, and that's more than a year later!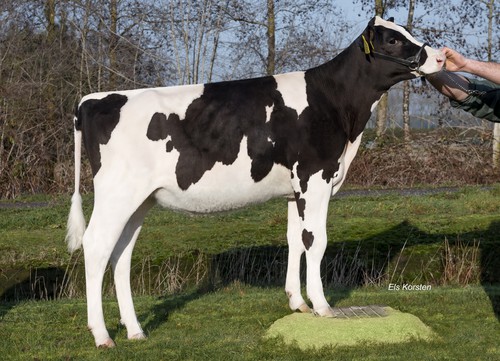 HET Gywer Chayenne RDC (Gywer RDC x HET Adora Chanel VG-86)
HET Cr Chalice,
daughter of
 Chanel VG-86 
and sired by Regan-Danhof Copyright, also shows a beautiful genomics profile with 341 gNVI & 156 gRZG. In addition, she has an extremely high type score of 140 RZE with 129 EUT in Germany! Now that she is almost one year old, it will not be long before she too will bring the next successful generation!
Last year this first calver of Hurkmans was already classified VG-86/VG-87 MS. With this score Chanel VG-86 provides a solid pedigree and honors the Larcrest Chenile/Larcrest Juror Chanel line. The quality of this family is well captured in the fancy, recently taken picture of Chanel VG-86!