JU Holsteins can now also be found on the webpage with breeders!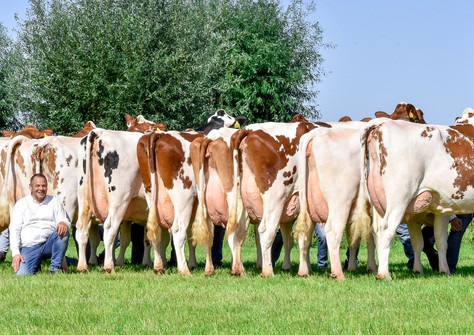 General
Johan with his 10 excellent cows.
Red Holstein breeder Johan Uenk and his herd JU Holsteins can from now on also be found on the GenHotel breeders page. We welcome JU Holsteins as a new member!
In total, Uenk milks about 100 cows and all heifers are genomic tested. As a result, the right tools are available to be able to select the most suitable bull. Strength, body mass, milk production, longevity and a strong character are important to Johan. In addition to applying these traits in his breeding goal, participation in (national) shows also plays a major role in his life.
Perhaps one of the most famous breeding results of Johan Uenk is the proven sire JU Stefan. With no less than 14,500 milking daughters in the Netherlands, this Delta Canvas son from the JU Lonia family has long been a popular sire to use.
The Lonias still belong to one of the most prominent cow families at Uenk. Not only at local shows the red ladies achieve success. Scientific Destry RDC daughter JU Lonia 167 Red EX-92 achieved three years in a row success at the national HHH Show. Also when it comes to breeding power, the Lonias fulfill even more wishes; recently a son of JU Lonia 232 EX-90 (by Sodan-Red) left to KI De Toekomst!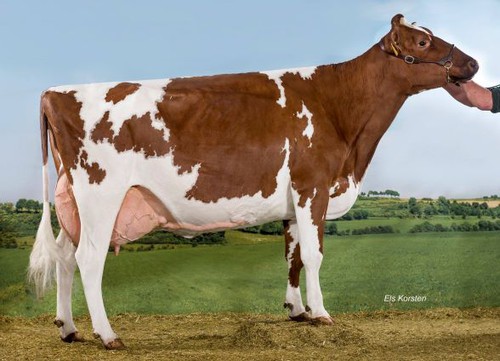 JU Lonia 167 Red EX-92 (s. Destry RDC)
Recently, a classification delivered the 18th excellent cow for Uenk. Marie Suze 7, owned together with Ger van Hest, is the 4th generation excellent in a row. She is a granddaughter of Brook Marie 61 EX-91 - the Grand Champion NRM 2012. Suze 7 scores EX-90/ EX-92 DS and is also the first excellent daughter by Caps Dg Apple Pie Red.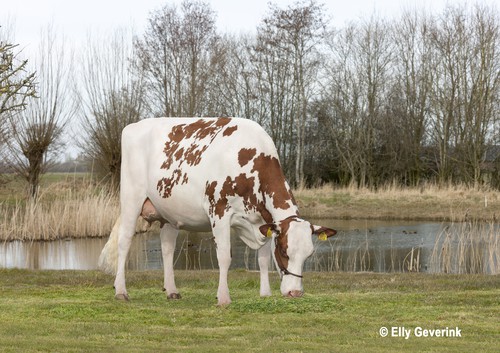 Marie Suze 7 now EX-90!