Success of 3STAR Airlight Red, strengthened by the influence of GenHotel members!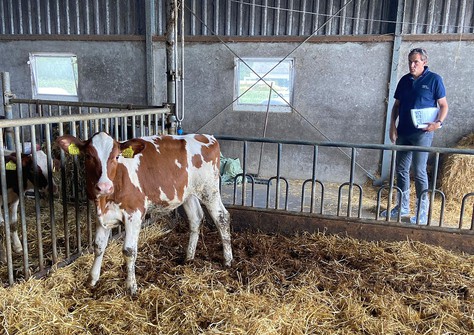 General
3STAR Breeding Program result 3STAR Airlight Red recently received an important visit from Germany!
Recently there was Selection Tour through the Netherlands organized by GenHotel with the German partner organisation Phönix. Sire analyst Hartwig of Rinder Union West was present to select the future donors. During the two-day tour one R&W heifer that is filled with genetics made by GenHotel members draw extra attention!
That heifer is 3STAR Airlight Red. Her first genomics results were a hit! With no less than 162 gRZG she belongs to the worldwide top! She is the No. 2 Flight daughter and the No. 4 RZG heifer of all tested heifers born in 2022! Furthermore she also scores good in other countries (203 gISU and 327 gNVI), so Airlight Red is a true all-rounder. Not very surprising when you look at her pedigree that leads via to her maternaline to KHW Goldwyn Aiko RDC EX-91 and is vested on her paternal side by the great Fienchen family. 3STAR Airlight Red is sired by Poppe Flight Red (OH DG Rubels-Red x Poppe Fienchen 1569 Red VG-85 <Wilder Born P Red). Here we already find the first link with GenHotel members Poppe Holsteins, De Oosterhof and Wilder Holsteins!
Flight Red is the no. 4 R&W sire of Switzerland (1565 gISET), the number 5 R&W gRZG bull in Germany with 160 gRZG and also in the Interbull ranking he scores high on a gNVI basis with 322 gNVI. His sire Rubels-Red, co-bred by De Oosterhof, ensures his ability to sire great conformation animals in his first lactating daughters. They show great attached udders that are accompanied by slightly sloping rumps and moderate angled legs. The former number 1 gTPI R&W sire has been intensively used as sires of sons and currently stamps the Red Holstein ,arket, next to Flight Red, with sons such as Koepon Ryder Red, Koepon Robin Red and of course the current number 1 R&W in the world: 3STAR OH Ranger Red!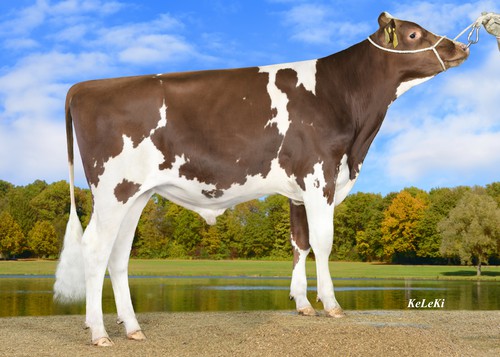 Sire Poppe Flight Red, birthbarn @Poppe Holsteins & bred from the Poppe Fienchens.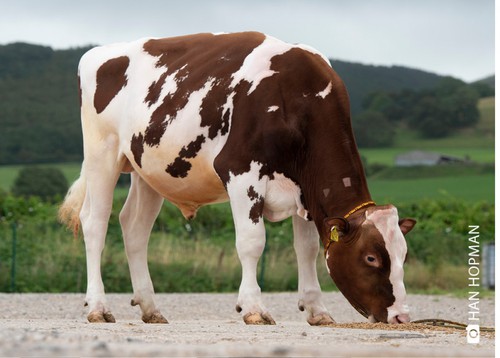 MGS: OH DG Rubels-Red, co-bred by De Oosterhof
But also on the maternalline we find plenty of influence from several GenHotel members. All-rounder Airlight Red is a daughter of R&B AltaTop Aivy Red and  is sired by Koepon AltaTop-Red. With which member Koepon Genetics and both members Roubos & Batouwe Holsteins can be added to the list. Aivy Red was sold with > €10,000 in embryo contracts by her breeders during the GenHotel Selection Sale August 2020 to GenHotel for the 3STAR breeding programme. What made her a very interesting purchase for the 3STAR Breeding Program was the fact that she was the number 1 RZEuro and the number 3 gRZG AltaTop daughter at that time.
Aivy Red's dam is Rhala RE Quickstep Red (OH DG Alaska Red) which makes the well-known Batouwe Salsa Aiko Red VG-85 her granddam. The VG-85 Salsa RC, born at Batouwe Holsteins, was purchased as a heifer calf by Rhala Holsteins & Excellent Genetics. There, Aiko Red managed to grow into a fantastic breeding cow with no less than 5  sons in AI! One of the most famous is Rhala RE Blues-Red.
In addition to R&B AltaTop Aivy Red, the combination Roubos & Bakker also managed to breed a red and polled maternal-sister named R&B Solitair Aisha P Red (by Solitair P Red) - the former no. 3 NVI & TPI Caudumer Solitair P Red daughter. Aisha P Red's only daughter at the moment is homoygoot polled and red! Extra special because her sire, HIN 3STAR Hugo PP RDC, is a red carrier.  Daughter R&B Hugo Ailani PP Red has an outstanding score of 161 gRZG and will be sold during the VOST Select Sale 10 in November! There are still some embryos of R&B Solitiar Aisha P Red available. Click here!
Partly due to the commitment and passion of GenHotel members, this Red Holstein cow family knows how to spread its roots & impact further and further across Europe. With one of the latest successes 3STAR Airlight Red, it's certain that we will hear more from her and her strong breeding family in the near future.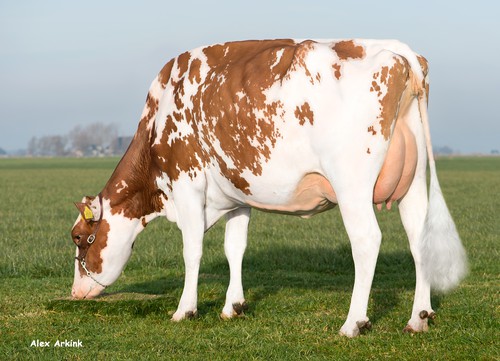 The well-known Salsa RC daughter Batouwe Salsa Aiko Red VG-85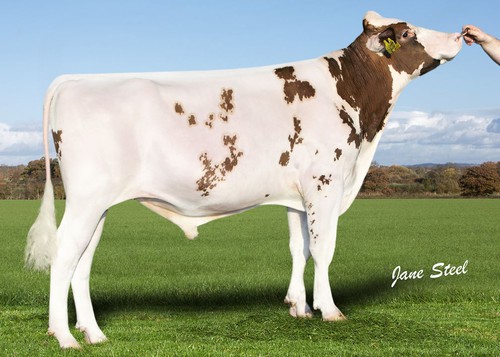 Rhala RE Blues-, Mr Salvatore x Batouwe Salsa Aiko Red VG-85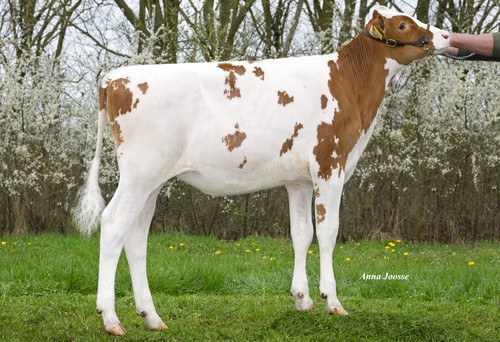 ​R&B Solitair Aisha P Red, Caudumer Solitair P Red x Rhala RE Quickstep Red