In 25 years from 0 to 100!
General
Ben, Ingrid and Jos Knoef with their hundredth 100,000kg lifetime cow!
A huge and never before showed achievement, that is what the Knoef family of Big Holsteins delivered when recently the 100th cow on the Dutch dairy farm managed to achieve the 100,000 kgs of lifetime production! After having the first 200,000 kgs Dutch cow in 2016, Knoef is now also the first in the Netherlands to raise 100 'hundred tons'.
25 years
Together, 100 tough ladies delivered more than 10,000,000 liters of milk, which amounts to about 264 trucks full of milk! The first 100,000 kgs cow at Big Holsteins was Jopie 155, an VG-85 Brave daughter. In January of 1997, she reached this milestone in 3,089 days. Shortly thereafter Jopie was followed by her herdmate Big Melkbron 193 GP-84 (by Tops), which passed this barrier with 100,480 kgs of milk, 4.41% fat and 3.83% protein. Now, 25 years later, Knoef counts with the VG-87 points Big Winner daughter Big Betje 287 no less than hundred 100.000 kgs milk cows, which amounts to an average of about four 100,000 kgs lifetime cows per year!
Main suppliers
Knoef's main supplier is the all-time favourite Sunny Boy. This sire brought Knoef over the years 8 100.000 kgs lifetime cows with a beautiful average of VG-86.3 for conformation. Looking at the female lines, their are two cow families namely the Big IJbeltjes with 11 and the Big Boukjes which hit the absolutely gold standard with 13 cows. Even today the Boukje family is still a significat part of the 'Big Holsteins herd and supplies 16% of Knoef's herd. This same branch also supplied the first 200,000 kgs cow Big Boukje 192 EX-90.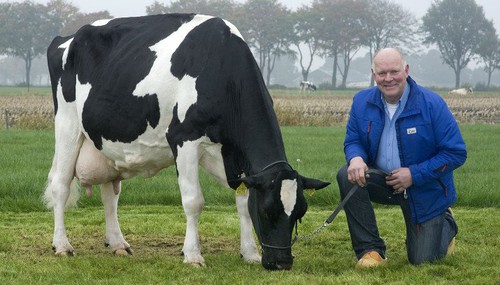 Big Boukje 192 EX-90 with her breeder Jos Knoef
Like a rocket
The fastest Big Holstein cow that passed the 100,000 kgs mark in just 2,196 days is Big Eta Bonnie Star VG-85, she hit the mark in the year 2000. Striking is the fact that this fast producer is imported from America as an embryo. She's a To-Mar Blackstar daughter from Thumb-Pride Bonnie Sexation VG-86. Knoef bred four female offspring from this purchase, including Big Bonnie 3 (by Pinkpop). Bonnie 3 is scored VG-87 and has a lifetime production of 131,769 kgs milk with 4.37% fat and 3.43% protein. This daughter also belongs to one of the hunderd 100,000 kg cows at Big Holsteins. Granddaughter Big Bonnie 15 VG-85 (Orcival x Bonnie 3) is the 3rd generation in a row with a lifetime production of 100,121 kgs of milk 4.90% fat and 3.74% protein!
10.000kg Fat + protein
The number of cows with 10,000 kgs of fat + protein is also increasing considerably at Knoef's dairy farm. At the moment they've had even 29 cows which hit this unique barrier. Their 29th is Kian daughter Big Josie 56 VG-85. With this number of top lifetime producers, Big Holsteins is also the current leader in the Netherlands in this field!