Classification brings in wonderfull results for Poppe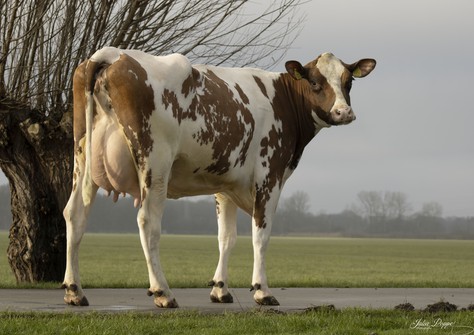 General
Dam to Poppe Fienchen 1994 P Red VG-85: Poppe Fienchen 1591 P Red VG-85
The classification of 24 two-yr-olds and the re-classification of 2 young cows resulted in beautiful scores for offspring from various cow families!
Star of the day at Poppe Holsteins was the second calver Poppe K&L Sneeker 8918, a Semino daughter from the Newhouse Sneeker family. This Sneeker, co-owned with GenHotel, is projected at 13.711 kgsM and classified VG-88 with EX-91 Dairy Strength and VG-89 Udder! 
Also a top re-classification of VG-87 (EX-90 MS) for the third calver Poppe K&L Dellia 1177 (by Battlecry). The Battlecry is a result of the 3STAR Embryo Program, as Poppe bought embryos from GenHotel's donor K&L SG Dellia VG-86. This line was brought to the attention again last summer when the beautiful SPH Cyrano daughter K&L Poppe Dellia 8497 VG-87 (EX-90 MS) - Dellia 1177 VG-87's daughter - was photographed at VMO Holsteins!

K&L Poppe Dellia 8497 VG-87, EX-90 MS (Cyrano x Poppe K&L Dellia 1177 VG-87)
The highest score among the 2-yr-olds was for the red and polled Poppe Fienchen 9088 P Red, a Caudumer Solitair P Red from Poppe Fienchen 1565 RDC VG-87. With a score of 87 points and VG-88 MS, Fienchen 9088 P Red is one of the highest scored daughters of Solitair P Red in the Netherlands!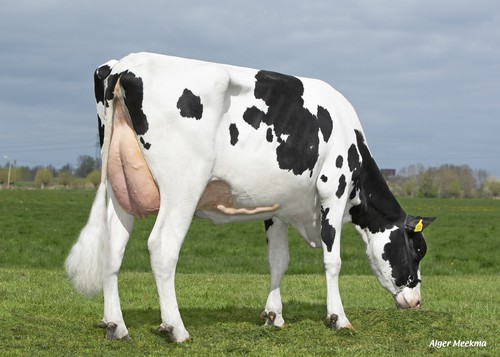 Dam: Poppe Fienchen 1565 RDC VG-87 (s. Delta Magister)
Wilder K41 RDC VG-87's early polled Solitair P Red, Poppe Kanu 1980 P Red was good for VG-86. She also proves to be a great transmitter with daughters up to 158 gRZG. These heifer calves are born from matings with Poppe's home bred Poppe Flight Red & Poppe Freestyle Red! One of them is Poppe Kanu 2370 Red, with 158 gRZG and great components.
A Spark-Red daughter from Den Hamer Red Hot Feebe RDC VG-89 got scored with VG-86 and a maximum score of VG-89 for Dairy Strength. This Poppe Red Hot Fabienne RDC VG-86, in co-ownership with Red Hot Holsteins, is a maternal-sister of KIK Elyan & Quatropoint Red Hot Ferryl @KI Kampen and Veecom Falcone @Veecom!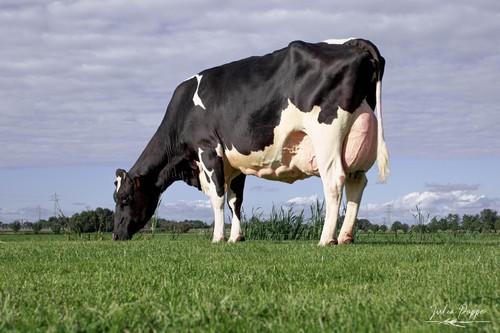 Dam: Den Hamer Red Hot Feebe RDC VG-89
The 10,843 kgsM, 4.50% fat and 3.45% protein producing Silverridge V Einstein offspring of K&L OH Rozella VG-85, 3STAR OH Rihanna, scored VG-86 with VG-88 DS. Rozella's full brother K&L OH Rossi Guay is known as the former number 1 gICO of Spain! A full sister of Rihanna - 3STAR OH Roxanne - was photographed at De Oosterhof at almost the same day. The result of this shoot will follow soon!
VG-85 went to Poppe Fienchen 1994 P Red (by Yeti RF). Her maternal sister Poppe Fienchen 9099 P Red, by Delta Abundant P RF, served as an important embryo donor which resulted in, among other things, a high red, polled daughter with 409 gNVI. In addition, Poppe also bred a Cartoon P Red son that is sold to an AI.
| | | | | | | | | | |
| --- | --- | --- | --- | --- | --- | --- | --- | --- | --- |
| Name | Sire | Dam |  Col | Lact | FR | DS | MS | FL | TOT |
| Sneeker 8918 | Semino | PY Sneeker n.c. | B | 2 | 86 | 91 | 89 | 86 | 88 |
| Fienchen 9088 | Solitair P Red | Fienchen 1565 RDC VG-87 | R | 1 | 84 | 87 | 88 | 87 | 87 |
| Dellia 1177 | Battlecry | SG Dellia VG-86 | B | 3 | 87 | 89 | 90 | 84 | 87 |
| Kanu 1980 Red | Solitair P Red | K41 RDC VG-87 | R | 1 | 87 | 86 | 83 | 87 | 86 |
| Fabien  | Spark-Red | Feebe VG-89 | B | 1 | 86 | 89 | 88 | 82 | 86 |
| Rihanna | Einstein | Rozella VG-85 | B | 1 | 86 | 88 | 83 | 87 | 86 |
| Roosje | Ranger | Roosje 831 .c. | B | 1 | 87 | 88 | 84 | 86 | 86 |
| Fienchen 1994 P Red | Yeti RF | 1591 P Red VG-85 | R | 1 | 87 | 85 | 83 | 85 | 85 |
| 9132 Fienchen Red | Pitcher-Red | 1325 P Red n.c | R | 1 | 84 | 86 | 87 | 83 | 85 |
| Alisha Red | Solitair P Red | Aderyn Red GP-84 | B | 1 | 84 | 87 | 86 | 83 | 85 |
| Kanu 2037 | Pitcher-Red | K41 RDC VG-87 | B | 1 | 88 | 87 | 84 | 83 | 85 |