High Twitch daughter at Lindenhof Holsteins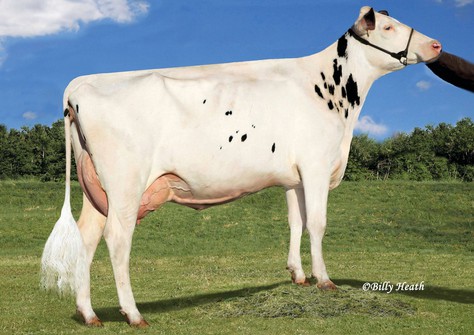 Genomics
Richmond-FD Baxter Barbie EX-92, tremendous brood cow in the pedigree of HLB Twitch Bora
The American genomics run in April has again delivered several high results for newly tested females from GenHotel members.
At Lindenhof Holsteins, HLB Twitch Bora is a very interesting heifer, who is in 3rd place this month with 2925 gTPI and 777 NM. Bora her sire is Mr Farnear Helix Twitch, her dam is a Cal-Roy-Al Yoda from the American Richmond-FD Baxter Barbie EX-92 family.
This time Koepon Genetics has 2 high heifers in the top 50 gTPI, including Koepon Forte Ruby 72, a daughter of OCD Helix Forte, with 2875 gTPI and 752 NM. Ruby 72 her dam is Koepon Kenobi Ruby 28, a De-Su Kenobi daughter who has not yet calved and is a maternal sister of the high young bull Koepon Raptor (by AltaLawson). The Koepon Ruby family goes back to the American brood cow Regan-Joy Durham Regenia EX-92. Koepon's other top 50 listing is the very interesting Koepon Stamkos Range 2 RDC, the highest Westcoast Stamkos RDC in Europe with 2821 gTPI and 717 NM. Red carrier Range 2 is a daughter of Koepon Swingman Range 2 Red, the maternal sister of 3STAR OH Ranger-Red, the number 1 gLPI worldwide.
Wilder Holsteins also has 2 high new tested females. Wilder 23637 is a Progenesis Manhattan from the Ralma Juror Faith EX-91 family. With 2861 gTPI and 725 NM, she is the highest Manhattan in Europe and also scores 164 gRZG on the German basis. Her herdmate Wilder 23635 (2844 gTPI) is also a Manhattan daughter, but from the family of Larcrest Juror Chanel EX-93. Her dam HET SC Charlene (by Soundcloud) was sold at the Highlight Sale 2020 for € 29,000 and also has a Zasberilla daughter over 2800 gTPI.
CEH Copyright Henna is the number 2 Regan-Danhof Copyright daughter in April. With 2847 gTPI, this descendant from the Snow-N-Denises Della EX-95 family is a very nice addition in the CEH Holsteins barn. Henna her fifth dam is 'Global Cow of the Year 2019' Cookiecutter Mom Halo VG-88.
An interesting newcomer at Zwanebloem Holsteins is Zwanebloem Renegade Cinder, an S-S-I Pr Renegade out of the high producing Bomaz Skywalker daughter Zwanebloem Skywalker Cinder GP-84 (VG-87 udder). Cinder, from the Glenridge Citation Roxy EX-97 family, is the number 2 Renegade in Europe with 2841 gTPI. Moreover, she is the highest Renegade with 351 gNVI and is in the top 25 gNVI in the Netherlands & Flanders.
Of the newly tested European females in April, Riethil Vanity (owned by Riethil Holsteins) scores by far the highest for conformation. With a monster score of +4.14 PTAT & +2.83 UDC she is also one of the top 3 PTAT of all females in Europe. And on top of this, she is the number 1 PTAT Avant-Garde Unix Select daughter worldwide!
Also worth mentioning is Luck-E Undenied Admiral daughter Dairy Cows De Dorre Admiral Adeena, who is with +3.13 PTAT and +2.20 UDC the highest Admiral daughter this month and the number 2 PTAT Admiral in Europe now. Her dam De Dorre Jacoby Adeena was sold to Northern Ireland during the De Dorre Selection Sale held at the end of last year.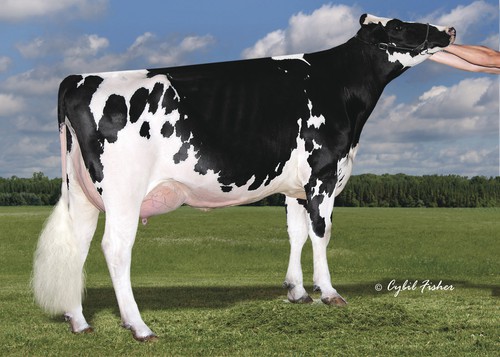 Cookiecutter Epic Hazel EX-92, 4th dam of CEH Copyright Henna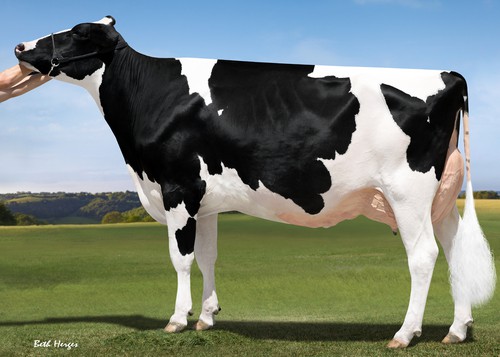 Our-Favorite Unlimited EX-94 (s. Atwood), great brood cow behind Riethil Vanity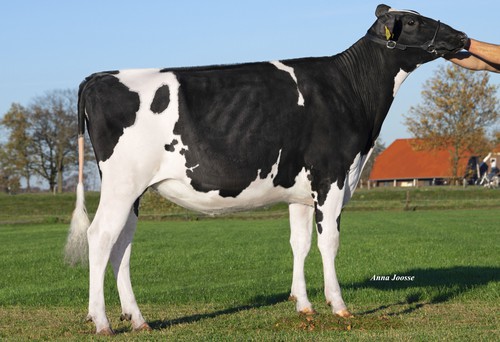 De Dorre Jacoby Adeena, dam of Dairy Cows D.D. Admiral Adeena