3 of the top 5 NVI proven sires bred by GenHotel-members!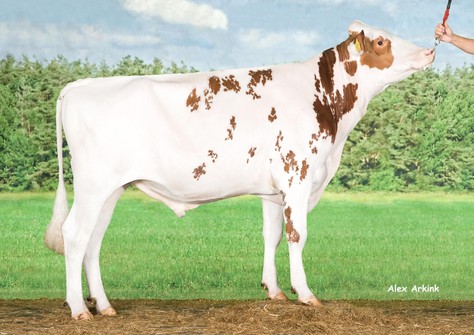 Genomics
Red Rocks K&L Fireball-Red, great debutant R&W proven sires!
The April 2021 breeding values have also been published in the Netherlands. In the breeding value estimation of April 2021, adjustments were made to fertility, udder health, temperament, milking speed and viability. These changes have affected the breeding values of a number of individual bulls.
The red-and-white breeding bull list has several new bulls in the top NVI. For example, Wilder Smart Red, a Delta Norbert-Red out of Wilder Smile VG-85 (Brekem RDC x Snowman), with 247 NVI, makes his debut in 3rd place. The bull, bred by the Holtkamp family, does not score extremely anywhere, but is everywhere positive in his transmitting pattern. Next debutant (with 242 NVI) is De Oosterhof Oh Dg Pat Alaska-Red, a Coyne-Farms Sympati Pat-Red son from the family of Rainyridge Tony Beauty EX-5E-Can, Grand Champion World Dairy Expo 1999. Alaska-Red is a half-brother of the dam of the successful De Oosterhof Dg Rubels-Red and has several high-scoring female relatives at De Oosterhof. Third new bull and in the top 20 proven bulls red & white is Red Rocks K&L Fireball-Red (Delta Meteor-Red x Snowman), from the Bonhill Warsi family. The bull (209 NVI), bred by Red Rocks and 3STAR Genetics, scores very well on production, udder health, fertility and legs.
The highest type bull on the CRV published bull list is Drouner Rednex-Red, who scores a phenomenal 114 Total and 115 Udder! Rednex-Red comes from the Drouner Aiko family and is a full brother of the number 1 RZG proven bull Drouner Effektiv-Red.
Three of the five highest NVI proven bulls are bred by GenHotel members, a great achievement!
Several bulls bred by GenHotel members are also in the top of the young bulls. The highest Rubels-Red son on a Dutch basis is with 343 gNVI 3STAR OH Redback-Red, who has Batouwe Ailisha Salva Red VG-85 as dam and comes from the Kamps-Hollow Durham Altitude RDC EX-95 family. Despite an extreme milk production, Redback scores high for durability and udders. Also from the Altitude family is Drouner Altitude-Red, which with 339 gNVI remains in the top 10 as one of the highest Jacuzzi sons. The highest Gywer RDC son on NVI is Poppe Freestyle-Red, from the very successful Poppe Fienchen family. Freestyle-Red, 328 gNVI, scores high not only in the Netherlands, but also in other countries, such as 166 gRZG, 2723 gTPI and 3533 gLPI. The much used polled sire of sons Visstein K&L Money P Red also managed to maintain himself well in the top 15 gNVI with 321 gNVI. The Oosterhof 3STAR Reno Red makes his debut with 321 gNVI right in the top 15. Reno Red is a Rubels-Red from Kalibra SX 5631 Red VG-87, a Westcoast Styx-Red from the Wilder Kanu family.
In the list of black & white young bulls, RZH Havertz RDC, an AltaHothand out of the super brood cow Ri-Val-Re Rasp 2131 RDC (Rubi Asp x Supershot) with 351 gNVI is one of the highest newcomers. Havertz, bred by RZH (Marco Hellwig), goes back to the Canadian Glen-Drummond Splendor family, which has delivered many successful AI bulls. Midwolder Mansion, bred by GenHotel member Van Erp, is also able to maintain itself in the top 10 with 348 gNVI. Mansion's sire is the home-bred Midwolder Martin, his dam's line goes back to the well-known brood cow Remarlinda EX-90.
Click HERE for all new April 2021 bull proofs.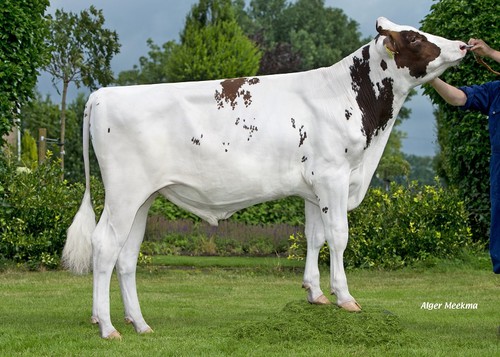 Drouner Rednex-Red (Effort-Red x Freddie), number 1 proven type sire!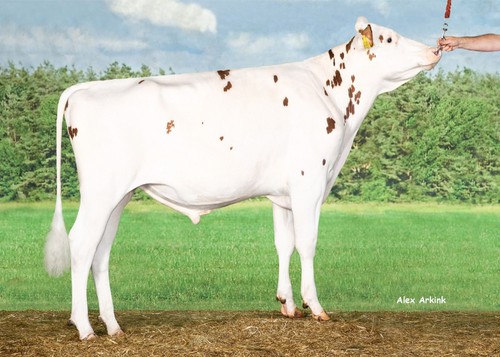 Poppe Freestyle-Red (Gywer RDC x Born P RDC), top young sire in several systems