GenHotel welcomes Gert Bakker, first Junior member
General
Gert Bakker, owner of 'Batouwe Junior Holsteins'
The 12-year-old Gert Bakker stands at the beginning of breeding his own herd! Last year he purchased his very first embryos, after learning from and working with his parents Pieterjan en Lijnie Bakker (known as Batouwe Holsteins). Now Gert is ready to go his own way under the prefix BJH: Batouwe Junior Holsteins.
Gert is an enthusiastic and passionate Young Breeder and already competed in various competitions. One of his biggest achievements is winning the youngest Showmanship class at the HHH Show in 2019. He was a strong competitor and managed to get the fourth place in the Junior Championship!

Gert leading R&B WR Meggilee Red ET. She was sold to Poppe Holsteins at the VOST Select Sale 2020.
It is partly due to the success of Batouwe Holsteins, Gert's passion of leading and clipping heifers increased. This is one of the reasons why Gert was really looking forward to start his own carreer. It started with the purchase of two embryos from a mixed flush with Lindenright Moovin RDC and Mr Spring Noble, both resulting in pregnancies! At the end of January 2021 two heifer calves were born and Gert called them BJH NBL Beauty & BJH MV Emma-Red. A tremendous and very promising start for Batouwe Junior Holsteins!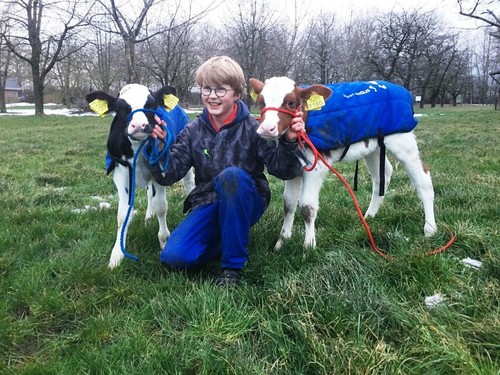 GenHotel welcomes the first Junior member and wishes Gert Bakker good luck with this amazing start. You will find the contact details from Gert also at the member page of Batouwe Holsteins.
Batouwe Junior Holsteins (Gert Bakker):
E-mail: batouwejuniorholsteins@xs4all.nl