Herdclassification Riethil Holsteins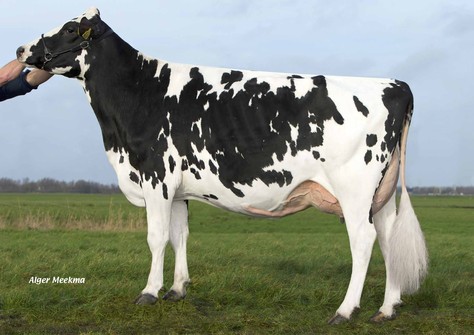 Type
NH Super Islandwave VG-88
Riethil Holsteins had a visit of the classifier. A total of 26 2-yr olds where classified with an average of 83 points.
NH Super Islandwave
One of the most important broodcows at Riethil Holsteins is NH Super Islandwave. This Superstition daughter from the Gourmette EX-92 (Ugela Bell) family is now classified VG-88 in her second lactation. 3 of her daughters are classified as well. Two Moguls (GP-84 and VG-85) and Riethil Island Wonder, a VG-87 Lexor daughter. Island Wonder is the dam to Riethil Islandsire, a +2439 GTPI Supersire, and Riethil Island Command, a +2400 GTPI / +154 GRZG Commander.
Other
Two Hunter daughters of the popular Ramos daughter Anderstrup Ramos Camil are classified VG-86 and VG-87. An early daughter of Hills Day out of a full sister to Riethil White Rain is classified VG-85. Finally a daughter from the bull Riethil Chanel (Fiction x Dukefarm Burns Charisma VG-89), bred by Riethil, is also classified VG-85 and a Dempsey out of the Lukas Granada family scored VG-86.
Highlights
| Naam | afstamming | # La | av | opmerking |
| --- | --- | --- | --- | --- |
| Geneviéve | Sudan x Planet x Riverland | 1 | 86 | Uit de Grietje familie |
| Summer Island | Mogul x Superstition x Shottle | 1 | 84 | NH Super Islandwave |
| Camilla | Hunter x Ramos x Laudan | 1 | 86 | Anderstrup Ramos Camil |
| Nlf Affimada 2 | Dempsey x Affirmed x Lukas | 1 | 86 | Lukas Granada |
| Camil | Hunter x Ramos x Laudan | 1 | 87 | Anderstrup Ramos Camil |
| Riethil Island Wonder | Lexor x Superstition x Shottle | 1 | 87 | NH Super Islandwave |
| Summer Night | Mogul x Superstition x Shottle | 1 | 85 | NH Super Islandwave |
| Rainhill | Hills-Day x Snowman x Goldwyn | 1 | 85 | Moeder is volle zus van Riethil White Rain |
| NH Super Islandwave | Superstition x Shottle x Juror | 2 | 88 | Superstition uit familie van Gunnar |
| Nora 380 | Chanel x Fidelity x Classic | 1 | 85 | Vader, Riethil Chanel, is gefokt door Riethil |