Geertjes continue to score at Aalshorst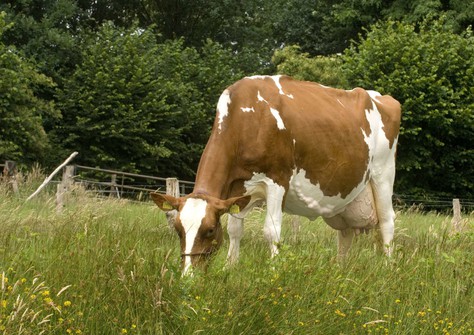 Type
Aalshorst Geertje 54 VG-88
In the herd of Aalshorst Holsteins it is the Geertje family that continues to breed great cows, generation after generation. During the last herd-classification several Geertjes where classified with VG or higher as you can see in the attached table.
Type and index
The Geertje family is very allround and offers very good type and an high index as well. Just thinks of Aalshorst Geertje 214 Red, this Whatsapp daughter is classified VG-87 as a 2-yr old and she is also the dam to Aalshorst Geertje 257 Red. This Styx daughter scores +347 GNVI (12-2017) in the Netherlands and she also offers +151 GRZG on German basis. She is among the most interesting R&W heifers in the Netherlands.
The dam to Geertje 214 is a Glorious daughter of Aalshorst Geertje 115 Red VG-85 (Destry x Classic x Lightning x Aalshorst Geertje 54). This Geertje 115 is also the granddam to Aalshorst Geertje 186, a VG-86 classified Ironic daughter, and the dam to Aalshorst Geertje 226, a VG-86 Riverboy daughter.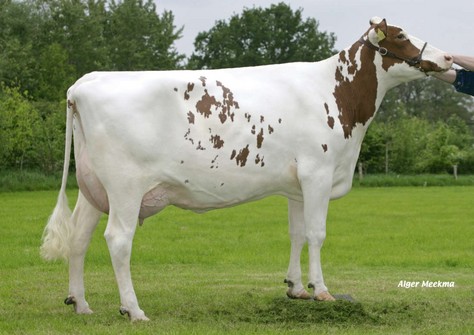 Aalshorst Geertje 77 VG-87, great-granddam to Geertje 214 Red VG-87
Poppe Fienchen
Backed by the Poppe Fienchen family is Aalshorst Fienchen 12 P Red. This Apoll P daughter is classified VG-85 and her dam is Poppe Fienchen 803 RDC G-86, a Danillo daughter of Poppe Fienchen 580 RDC VG-88. Fienchen 12 P Red has several high testing daughters. One of them is the Homozygote Polled Aalshorst Fienchen 17 PP RDC ith +278 GNVI (12-2017) and +143 GRZG.
Co-operation
Aalhorst Holsteins has invested in embryo's through the K&L Embryoprogram the recent years and from this program they are now milking the first cows. Just think of Aalshorst K&L Nemea 2, a VG-86 classified Penley granddaughter of Tirsvad Stol Joc Nemo VG-87. She is producing 23% above herd average at this moment.
The two VG-85 classified Apoll P sisters LOL 2 PP and LOL 1 P RED also hail from the K&L Embryoprogram, just like Aalshorst K&L Sina 1 en Aalshorst K&L Sina 2!
| Name | Sire | Dam | Col | La | FR | DS | MS | FL | TOT |
| --- | --- | --- | --- | --- | --- | --- | --- | --- | --- |
| Geertje 214  | Flevo Genetics Whatsapp | Aalshorst Geertje 148 | R | 1 | 87 | 88 | 86 | 87 | 87 |
| Geertje 181  | J&G Malando | Aalshorst Geertje 116 | Z | 3 | 86 | 87 | 87 | 87 | 87 |
| Geertje 216  | Filou RDC | Aalshorst Geertje 175 | R | 1 | 84 | 86 | 87 | 86 | 86 |
| Geertje 227  | Poppe Timeless | Aalshorst Geertje 131 | R | 1 | 83 | 85 | 88 | 85 | 86 |
| Geertje 121  | Delta Arroyo | Aalshorst Geertje 94 | Z | 5 | 86 | 84 | 87 | 84 | 86 |
| Geertje 186  | De Vrendt Ironic | Aalshorst Geertje 142 | Z | 2 | 86 | 83 | 89 | 85 | 86 |
| Nemea 2 | De-Su Penley 11839 | K&L LX Nemea | Z | 1 | 86 | 87 | 85 | 85 | 86 |
| K&L Sina 1  | Schreur Apoll P | K&L HWH PD Sina | Z | 1 | 85 | 85 | 87 | 86 | 86 |
| Geertje 223 | Poppe Timeless | Aalshorst Geertje 131 | Z | 1 | 86 | 86 | 88 | 85 | 86 |
| Geertje 226  | Ms Riverboy | Aalshorst Geertje 115 | Z | 1 | 84 | 85 | 87 | 86 | 86 |
| Fienchen 12  | Schreur Apoll P | Poppe Fienchen 803 | R | 1 | 87 | 85 | 86 | 84 | 85 |
| K&L Lol 1  | Schreur Apoll P | Caudumer Lol 337 | R | 1 | 85 | 86 | 87 | 82 | 85 |
| K&L Lol 2  | Schreur Apoll P | Caudumer Lol 337 | R | 1 | 85 | 87 | 84 | 85 | 85 |
| Geertje 190  | Vendairy Wonder | Aalshorst Geertje 122 | Z | 2 | 84 | 87 | 87 | 82 | 85 |
| K&L Sina 2  | Schreur Apoll P | K&L HWH PD Sina | Z | 1 | 83 | 84 | 87 | 85 | 85 |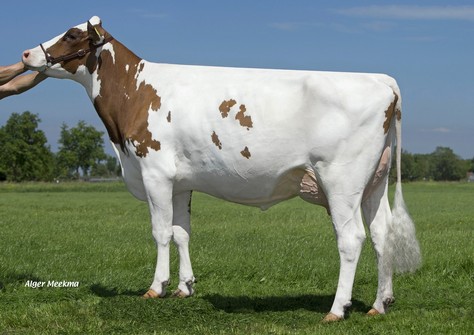 Caudumer Lol 305 PP Red VG-87, granddam to Lol 2 PP & Lol 1 P Red