Full sister to Red Rocks Mask-Red scored VG-87!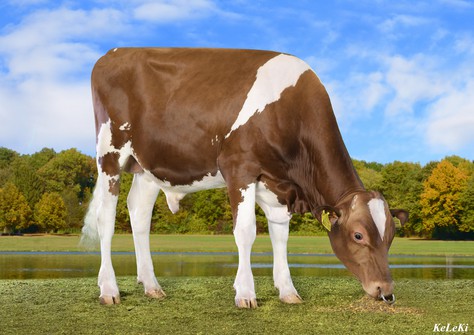 General
Red Rocks Mask-Red @RinderAllianz
Several Red Rocks Holsteins' 2-yr-olds and young cows were recently classified. There were great scores within different cow families, however in this herd it's still the Massia cow family that set the tone. For example, Red Rocks Massia 257 RF, the full sister of top RZG bull Red Rocks Mask-Red, was one of the highest scored cows of the day.
Red Rocks Massia 257 RF  (Stamkos RDC x Wisent RF), calved for the first time in April this year. She is one of a total of three full sisters of the widely used, 155 gRZG scored sire Mask-Red. This milking heifer was awarded with VG-87, her sublime udder was good for max. VG-89! This makes Massia 257 RF the 10th generation with a VG score, in a row!
Embryos produced with Mask-Red are available. Click here for the offer!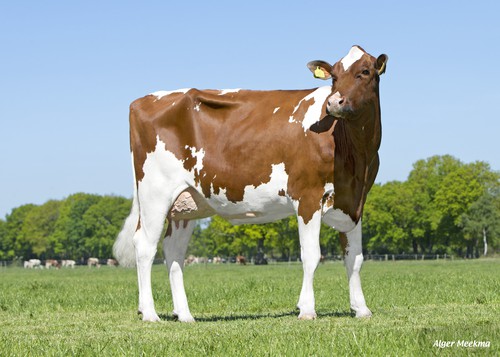 ​Red Rocks Massia 155 VG-86 (s. Wisent RF)
The Massia family delivered even more top scores. Like Red Rocks Massia 266 Red, a Nominator-Red granddaughter of Massia 155 Red VG-86 - dam of Mask-Red and Massia 257 RF VG-87. This classification the Nominator-Red offspring got a maximum score of VG-89 for dairyness and a total score of VG-86. And also full sister Massia 269 Red received her first score of VG-86 with VG-87 for dairyness. Their full brother - Red Rocks Nelson Red - is stationed at the German AI organisation VOST. 
Through Massia 155 Red VG-86's Japan RF daughter Massia 196 RDC VG-85, Wesselink bred the red Red Rocks Massia 259 Red. This is a daughter of the Dutch sire Blogger. Massia 259 Red, calved in April, scored VG-85.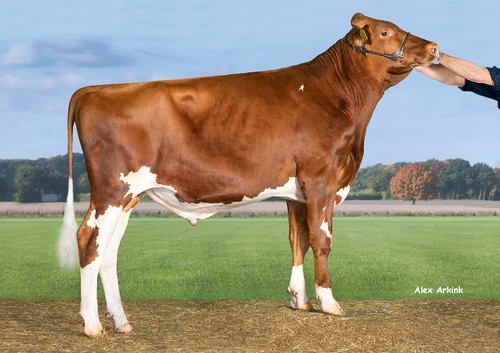 Red Rocks Nelson Red (Nominator-Red x Gywer RDC)
From the combination Punch P x Mission P RDC x Exploding Star, the Massia family also supplied the polled Red Rocks Kafama P Red. She is the third polled Massia in this pedigree in a row! Great-grand-dam Massia 76 Red VG-86 was one of the highest Glorious daughters based on NVI and RZG. This first calver Delta Punch P scores VG-88 Mammary and a total classification score of VG-86.
The durable cow family of the Stouwdamshof Jacoba's, was brought into the herd  of Red Rocks Holsteins through the purchase of embryos. Milking of Jacoba offspring has been going on for several generations now. The combination De Volmer Dropshot RF x Red Rocks K&L Jacoba 6 Red resulted in the red daughter Red Rocks Jacoba 16 Red. The first calver Jacoba calved at 2.00 years and classifies VG-86.
Kemview Zadia EX-90 is the foundation cow behind the now sixth calver HWH K&L Aik Zora RDC. Her dam Kossinkhoeve Zadia 1 VG-86 (by Planet) was a special donor and was flushed with several top bulls at the time. From the combination with Gen-I-Beq Aikman RDC, GenHotel purchased some embryos and transfered them via the Embryo Program. In this way, Zora RDC was born at HWH Holsteins in Germany and was sold to Red Rocks Holsteins during the GenHotel Selection Sale in 2014, including embryo contracts worth € 19,400! The Aikman RDC daughter delivered at least 20 offspring to the Wesselink family. After calving in June 2022, she upgraded her score to VG-87 with VG-89 MS, being more than a year in lactation!