First milking daughters of Rose RDC are great!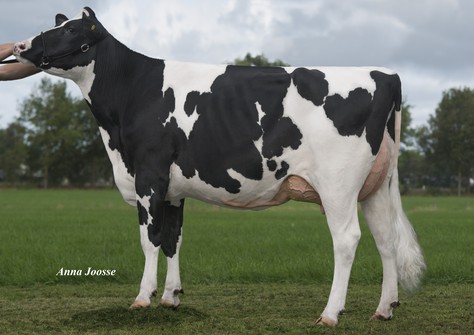 General
Super brood cow: Rose RDC VG-87 (s. Rubicon)
With more than 50 sons and daughters in at least six countries, De Oosterhof Dg Rose RDC VG-87, the second calver and red carrier EDG Rubicon daughter (owned by Sudena Holsteins) is a very important brood cow for the Red Holstein breed. Rose RDC VG-87, a descendant of Golden-Oaks Mark Prudence EX-95, was nominated for 'Red Impact Cow Of The Year 2020' in Holstein International and has numerous sons in AI. Now that her first daughters are in milk, it becomes clear that the international impact of Rose RDC VG-87 will be huge! 
In October one of her first 2-yr-old-daughters,  Lakeside UPS Red Range-Red (by Salvatore RDC) was classified VG-85 with VG-88 MS. Red Range VG-85 is purchased by Koepon Genetics at the GenHotel Selection Sale, and has already 13 sons in AI, including the No. 1 gTPI R&W worldwide: 3STAR OH Ranger-Red @Semex. The success story continues with two of Rose RDC VG-87 her De Oosterhof Dg Patt Alaska-Red daughters, which are classified VG-86 & VG-87 recently. These milking heifers were sold by GenHotel to Topspeed Genetics as an embryo.
Rose RDC VG-87 turned out to be a huge genomics transmitter. Almost all of her descendants score very high in multiple systems and the first milking daughters are confirming their genomic proofs! 
Do you want offspring of Rose RDC VG-87 in your barn too?
Take a shot, there are several embryos available of her red & white daughters
in the GenHotel EmbryoSale: lot 461, 464, 472 & 486.
GO TO THE GENHOTEL EMBRYOSALE PAGE