3STAR EmbryoProgram brings booming results at Aalshorst Holsteins
General
Aalshorst K&L Aiko 1 P RDC (s. Schreur Apoll P Red) updated her score!
At Aalshorst Holsteins, the recent classification, in which 50% of the scored cows result from the 3STAR Embryo Program, was extremely successful. Of the cows that are jointly owned or co-bred with GenHotel, no less than 6 milking cows received a score of VG-85 or more! Below a glimpse of the results achieved by the Scholten family.
Aalshorst Holsteins, als known for top proven sires Aalshorst Rody-Red, Aalshorst Pleasure and the Geertje cow family, has been a member of GenHotel for a long time now. In addition to the fantastic results that owners Tim and Roland Scholten have achieved themselves over the years, they also enjoy bringing in new top genetics by purchasing heifers or embryos from the 3STAR Embryo Program, in which Scholten provides themselves 50% ownership in offspring.
One of the oldest cows at Aalshorst Holsteins purchased this way is the seven-year-old Aalshorst K&L Sina 2 P RDC, a fifth lactation Schreur Apoll P Red, tracing back to Ricecrest Ned Boy Noreen EX-91 and classified VG-85 as a 2-yr-old. Also her full sister, Aalshorst K&L Sina 1 RDC VG-86,  is also still present at the Scholten farm. Both sisters average over 11,000 kgsM in their 305-day lactations.

Granddam to Sina 1 RDC & Sina 2 P RDC: PBCD FD Sina VG-87 (s. Freddie)
The recent classification day also proved the power of the Embryo Program and, of course, the management skills of the Scholten family. Remarkable was the fact that 2 fifth calver cows, Aalshorst K&L Aiko 1 P RDC (by Schreur Apoll P Red) and Barolo daughter Aalshorst K&L Zalia 1 RDC were re-scored with an awesome VG-89, where Aiko was even awarded with EX-92 DS! Both cows are being milked with great pleasure since they have started  their first lactation. In fact, you may also already know both Aiko 1, direct daughter from Drouner AJDH Aiko RDC VG-87, and Kossinkhoeve Zadia 1 VG-87's granddaughter Zalia 1 RDC. Because in 2020 they already appeared in the special 3STAR Program testimonal that was made at Aalshorst Holsteins!
Highest scores in the 2-year-old group got two Rubels-Red daughters, namely GenHotel Selection Sale-March 2021-purchase Visstein 3STAR Ardiana Red and Aalshorst 3STAR Sina 8 Red. Both milking heifers received VG-86. Sina 8 Red, which descends via a VG-86 Delta Goal-Red from the afore mentioned Sina 1 RDC VG-86, is now certainly the 10th generation in a row with a VG/EX score. Her 305-day lactation is projected at 8,450 kgsM with 4.60% fat and 3.77% protein! Ardiana Red, purchased in 2021, born at Visstein's farm out of the 3STAR Breeding Program and direct daughter of Visstein K&L SV Aderina Red VG-89, was flushed a couple of times by Scholten. Due to the sale of embryos, there is also offspring of her in Germany and Sweden. Two sons of the VG-86 scored Kamps-Hollow Durham Altitude RDC EX-95 offspring are recently sold to KI Kampen and KI Samen.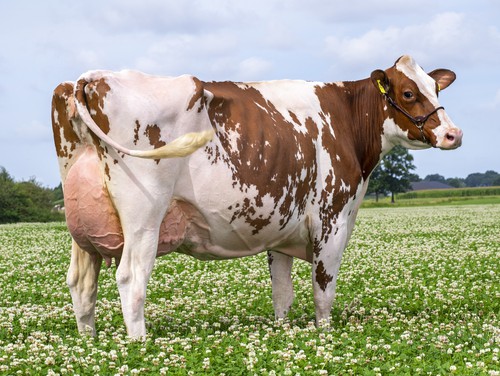 Dam Ardiana Red VG-86: Visstein K&L SV Aderina Red VG-89 (s. Mr Salvatore RDC)
Scholten now milks almost 40 cows (1/3 of the dairy herd) resulting from the 3STAR Embryo Program, in the range from first to fifth lactation. With this, these dairy cows contribute strongly to the annual average per cow of 10,131 kgsM with 4.27% fat and 3.59% protein.
Find out more about the 3STAR EmbryoProgram!
| | | | | | | | | | |
| --- | --- | --- | --- | --- | --- | --- | --- | --- | --- |
| Name | Sire | Dam | Col | Lac | FR | DS | MS | FL | TOT |
| K&L Aiko 1 P RDC | Apoll P Red | Aiko RDC VG-87 | B | 5 | 90 | 92 | 88 | 87 | 89 |
| K&L Zalia 1  | Barolo | Zalia RDC VG-88 | B | 5 | 87 | 90 | 89 | 88 | 89 |
| 3STAR Ardiana Red | Rubels-Red | Aderina Red VG-89 | R | 1 | 86 | 88 | 84 | 86 | 86 |
| 3STAR Sina 8 Red | Rubels-Red | Sina 5 RDC VG-85 | R | 1 | 85 | 87 | 86 | 84 | 86 |
| 3STAR Aiko 5 Red | Shimmer RDC | Aiko 1 P RDC VG-89 | R | 1 | 84 | 85 | 86 | 84 | 85 |
| K&L Lol 4 PP Red | Born P RDC | Lol 1 P Red VG-85 | R | 3 | 86 | 87 | 84 | 85 | 85 |