Barendonk Brasilera 12 Grand Champion Midsummer Dairy Show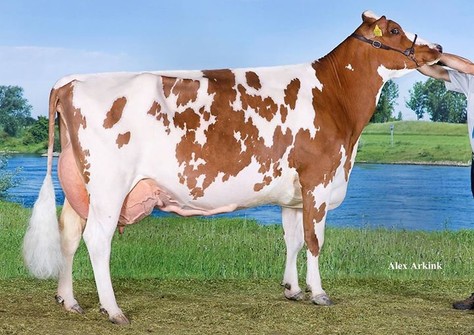 Type
Barendonk Brasilera 12 EX-93
Reigning NRM-Champion Barendonk Brasilera 12 is named Grand Champion R&W at the Midsummer Dairy Show for the third (!!) time. The EX-93 classified Classic daughter was named Grand Champion in Schijndel, the Netherlands, in 2012 (as 2-yr old) and 2014 (as 3rd calver). Brasilera 12, who is now in her 4th lactation, is one of the most succesfull R&W showcows in the Netherlands. Her eldest daughter, Barendonk Brasilera 15 (s. Absolute Red), is classified VG-88 as a 2-yr old.
Caumder Lol 306 PP Red
Caudumer Lol 306 PP Red made her debut in the showring for Barendonk Holsteins. CRV purchased this Magna P daughter of Caudumer Lol 292-Red P as a heifer from Caudumer Holsteins for their breeding program. A few years ago she moved to Barendonk Holsteins as they are one of the Delta-test farms for CRV. In the herd of Barendonk Holsteins she developed into a very fancy EX-91 classified cow that produced over 16.452 kg of milk (26% above herd average) in her second lactation (305 days).
Zandenburg Holsteins
Zandenburg Holsteins had also a great evening with Meridian daughter Zandenburg Meridian Camilla. Camilla, who also participated at the European Championship in Colmar, looked stunning and was named Intermediate Champion. Her pedigree goes through Zandenburg Snowman Camilla VG-89 back at the well-known Ramos daughter Anderstrup Ramos Camille EX-90.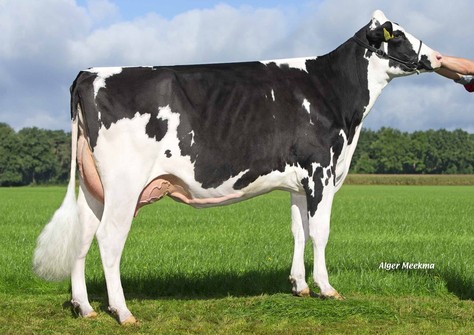 Zandenburg Meridian Camilla VG-89