Aisha P Red, new GTPI topper for R&B Holsteins!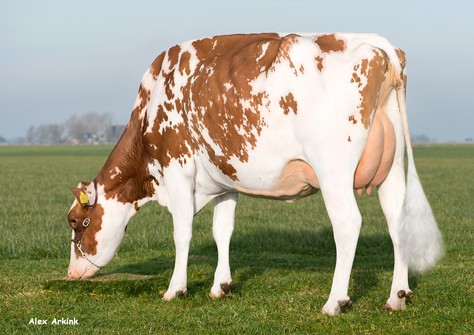 Genomics
Batouwe Salsa Aiko-Red VG-85, 2nd dam of R&B Solitair Aisha P Red
The March USA genomic proof run for females has yielded a great result for R&B Solitair Aisha P Red of Roubos & Batouwe Holsteins. Wilder Holsteins and Hurkmans ET also have some newly tested additions in the top 50 gTPI in Europe this month.
R&B Solitair Aisha P Red is a polled and red Caudumer Solitair P Red daughter from the famous Kamps-Hollow Durham Altitude RDC EX-95 family. Aisha P Red scores 2710 gTPI and 628 NM and is one of the highest red and polled Solitairs in Europe. Also on the Dutch and German basis she is with 309 gNVI and 155 gRZG one of the highest polled and red & white daughters of her sire. Aisha her granddam, Batouwe Salsa Aiko Red VG-85, already has 5 sons in AI, including the high Mr Salvatore RDC son Rhala RE Blues-Red.
At Wilder Holsteins, the first 2 Claynook Zasberilla daughters are the highest Zasberilla's for both gTPI and NM in Europe. Wilder 365134 is a Zasberilla x Humblenkind from the Ralma Juror Faith EX-91 family and is with 2914 gTPI this month the number 3 gTPI of the newly tested females in Europe. Her half-sister and herdmate Wilder 85870 (Zasberilla x Soundcloud), 2843 gTPI, also comes from a well-known American cow family, that of Larcrest Juror Chanel EX-93. The dam of Wilder 85870, HET SC Charlene, was sold as a heifer at the Highlight Sale 2020 for € 29,000 by Hurkmans ET to Wilder Holsteins.
Also good news for Hurkmans ET this month, but from a different cow family, namely the Diepenhoek Rozelle family. HET Einstein Grianne is with 2890 gTPI the highest Silverridge V Einstein in March and with 759 NM even the highest Einstein for Net Merit of all tested Einstein daughters in Europe. Her dam is a not yet calved De-Su Kenobi out of HET Agro Gazelle VG-85 (by Rubi Agronaut).
Finally again success for a daughter of the super genomics transmitter K&L OH Mabel. Isolabella Inseme Emblema (s. Nacash) is the number 2 gTPI of the March run with 2971 gTPI. Mabel, owned by De Oosterhof & 3STAR Genetics, now has 14 daughters over 2800 gTPI and is the only cow with 5 daughters above 2900 gTPI in Europe!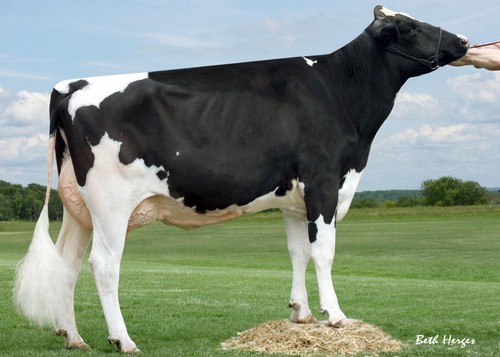 Larcrest Chenile VG-86 (s. Ramos), 5th dam of Wilder 85870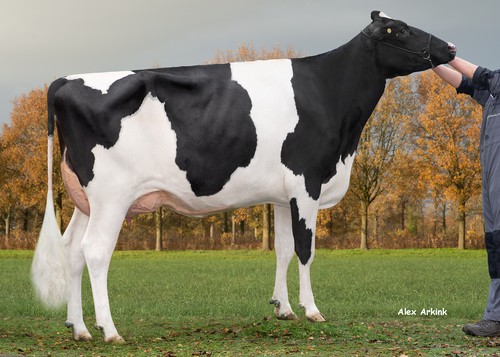 K&L OH Mabel (s. Granite), tremendous brood cow and dam of Isolabella Inseme Emblema