Aalshorst Rody-Red #1 GNVI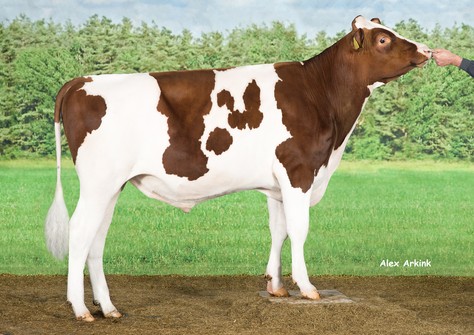 Genomics
Aalshorst Rody-Red, the new #1 GNVI
Aalshorst Rody-Red is the new number 1 GNVI bull with +329 GNVI. This Riverboy son is bred by Aalshorst Holsteins and his dam is Aalshorst Geertje 187 RDC, a Fanatic daughter of Aalshorst Geerjte 141 VG-85 (Kylian). This pedigree goes via an VG-88 Lichtblick back at Aalshorst Geertje 54 VG-88, dam to the proven bulls Aalshorst Pleasure and Aalshorst Balaton. One of the most interesting young calves in the herd of Aalshorst Holstiens is Aalshorst Geertje 233 Red, a +298 GNVI / +152 GRZG Peak half-sister to Rody-Red.
Polled
Schreur Argus P Red is a very interesting Polled bull scoring +296 GNVI. The dam tot his Apoll P son is Caps VVH PW Angela 3, a VG-87 Fageno. Angela 3 is also the dam to Caps Angelo, a +306 GNVI Riverboy sons that is the number 6 on the list with genomic bulls.
Another nice Polled bull that makes his debut is Poppe Funnyman P Red. This Fun P son scores +279 GNVI and his dam is Poppe Fienchen 944 Red, a Perfect Aiko daughter out of one of the Danillo daughters of Poppe Fienchen 580 RDC VG-88.
+115 Conformation
Barendonk Prestige-Red also makes a very nice debut. This Brasil son scores +293 GNVI with at least +115 conformation. He is the highest type bull in the top of the GNVI list. The dam to Prestige-Red is Barendonk Paulina 187 RDC, a lovely VG-87 classified Brekem daughter from the Barendonk Paulina family.

Poppe Fienchen 944 Red GP-84, dam to Poppe Funnyman P Red