Aalshorst Rody his dam classified VG-85
At Aalshorst Holsteins from Roland Scholten Aalshorst Geertje 187 RDC has been classified.
Aalshorst Geertje 87 RDC is the dam of the former No. 1 Red bull in Holland Aalshorst Rody at CRV(he now is the No. 2 Red bull)! Geertje 187 RDC is classified VG-85 with VG for mammary and feet and legs.  Geertje 187 RDC is also the dam of the very interesting heifer Aalshorst Geertje 233 Red. She is real high on both RZG and NVI and she is on a flush programm to fill contracts for German and Dutch Ai's. Geertje 187 is producing extremely godo as well, she is projected at 9.259kgM with 3.79%P!
Geertje 187 RDC is a red carrier Fanatic daughter out of a VG-85 Kylian. Then we the awesome Lichtblick dochter Geertje 75 VG-88  as ggranddam. Geertje 75 her dam is the broodcow Geertje 54, who is also the dam of the famous bull Aalshorst Pleasure.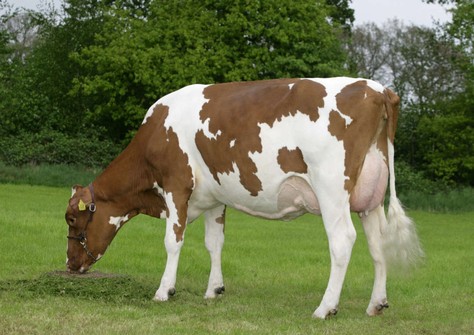 Aalshorst Geertje 75 VG-88