Two times EX at Midwolder Farm!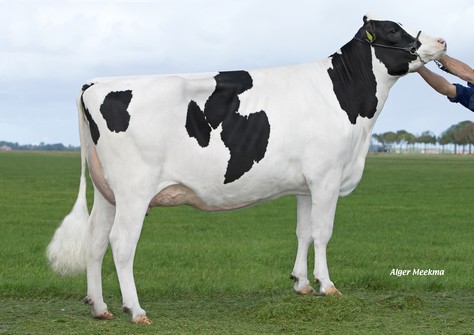 General
Midwolder Susan 211 is now EX-90!
It was time to classify again at Midwolder Farm, the dairy farm of the Van Erp family. Twenty of their 2-yr-old milking heifers met the classifier, which resulted in a fantastic average total score of 83.9 points. Also two of their phenomenal milking cows were classified with EX!
The highest score for the 2-yr-olds was VG-86 for 4 milking heifers. One of them is Rush Hour daughter Delta Laisa. Her VG-86 score includes VG-88 for Frame and Dairy Strength. Midwolder K&L Fiona 4, descendant from the fabulous Windy-Knoll-View Promis EX-95 and sired by Progenesis Cameron, also scored VG-86. Greatgranddam of Fiona 4 VG-86, FG Feline VG-86 (s. Snowman) is a well-known brood cow. This family, like the VG-86 Cameron daughter herself, excels in production, longevity and conformation. Her 305-days production is projected at 11.402 kgsM with 3.58%F and 3.37%P as a 2-yr-old.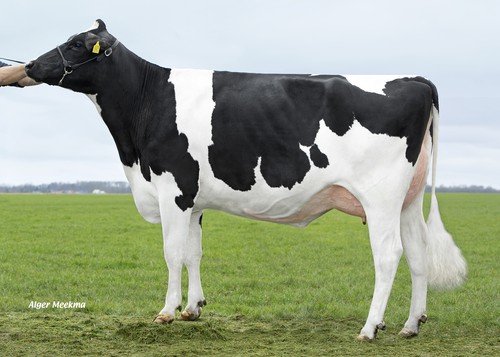 ​Delta Laisa VG-86 (by Rush Hour)
There were also some cows which had the opportunity to get reclassified. In this way Midwolder Marjon 130 (s. Seagull-Bay Silver) went up to VG-89 with EX-90 DS & EX-91 MS in her 4th lactation! Marjon 130 VG-89 is a daughter of the great brood cow Midwolder Marjon 53 VG-87 (s. Trigger), which is also the dam of AI sire Midwolder Movement (v. Delta Regard) and 3rd dam of Midwolder Martin, both @ CRV. This cow family is backed by Remarlinda EX-90 (s. Jocko).
Midwolder Susan 187 (by De-Su 11236 Balisto), scored VG-89, is fresh by her 5th calf and got excellent scores for her Frame and Mammary! Suzan 187 VG-89 comes from a homebred family, that is frontrunner when it comes to longevity. At this moment she has a lifetime production of 61.585 kgs milk, 3.92% fat and 3.61% protein in just 1478 days.
Maternal sister of Susan 187 VG-89,  Midwolder Susan 211 by EDG Rubicon, upgraded her score to EX-90 with EX-92 for her mammary in her 3rd lactation! She's also able to produce a lot of milk and her average 305-days production is at 13.232 kgsM with 4.42% F and 3.46% P. Susan 211 EX-90 delivered Van Erp four daughters, one of them is the second calver Midwolder Susan 240 (s. Adorable). Just one month fresh she was already good for VG-89 and she works hard to follow in her dam's footsteps. She completed her first lactation with 11.755 kgs milk, 4.49% fat & 3.74% protein.
Because of her tremendous breeding power, Van Erp will flush Susan 240 VG-89 soon!

Midwolder Suzan 164 VG-87 (s. AltaIota), dam of Suzan 187 VG-89 & Susan 211 EX-90
To top the classification day of, it was the 10 year old Midwolder Massia 36 Red, which reached EX-90/ EX-91 FR & DS in her 8th lactation! Her maternal sister is Midwolder Massia 46 RDC EX-90 (s. AltaIota), dam to Midwolder Nemo-Red @VOST. Not long ago Massia 36 Red EX-90 was looking outstanding in front of the camera: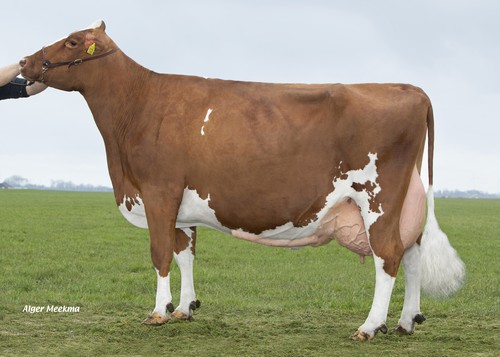 Midwolder Massia 36 Red EX-90 (s. Redgold) lifetime production:  2335 days 81.107kgM 4.32%F 3.72%P
| | | | | | | | | | |
| --- | --- | --- | --- | --- | --- | --- | --- | --- | --- |
| Name | Sire | Dam | Col | Lact | FR | DS | MS | FL | TOT |
| Massia 36 Red | Redgold | Massia 19 RDC GP-83 | R | 8 | 91 | 91 | 90 | 87 | 90 |
| Susan 211 | Rubicon | Susan 164 VG-87 | B | 3 | 90 | 89 | 92 | 89 | 90 |
| Susan 240 | Adorable | Susan 211 EX-90 | B | 2 | 89 | 86 | 89 | 89 | 89 |
| Marjon 130 | Silver | Marjon 53 VG-87 | B | 4 | 89 | 90 | 91 | 88 | 89 |
| Susan 187 | Balisto | Susan 164 VG-87 | B | 5 | 90 | 88 | 91 | 87 | 89 |
| Susan 226 Red | LivingtonRF | Susan 163 RDC VG-87 | R | 3 | 88 | 88 | 89 | 85 | 87 |
| Marjon 115 | Sundance | Marjon 18 VG-85 | B | 4 | 90 | 91 | 85 | 88 | 87 |
| Susan 154 | Mardonno | Susan 122 GP-82 | B | 7 | 86 | 88 | 86 | 88 | 87 |
| FIona 4 | Cameron | Fiona VG-84 | B | 1 | 85 | 85 | 87 | 85 | 86 |
| Susan 241 | Treasure | Susan 218  VG-85 | B | 1 | 86 | 86 | 85 | 86 | 86 |
| Susan 245 | Treasure | Susan 211 EX-90 | B | 1 | 84 | 86 | 86 | 87 | 86 |
| Laisa | Rush Hour | Laisa 1 P GP-82 | B | 1 | 88 | 88 | 84 | 86 | 86 |
| Tosca Red | Handy P RDC | Thilda VG-87 | R | 1 | 86 | 86 | 85 | 83 | 85 |
| Liedie 56 Red | Carnival-Red | Liedie 53 | R | 1 | 84 | 85 | 87 | 84 | 85 |
| Larisa 2 RF | Treasure | Larisa GP-83 | B | 1 | 86 | 86 | 84 | 86 | 85 |
| Melanie | Jupiler | Margreet 100 GP-84 | B | 1 | 86 | 86 | 84 | 84 | 85 |
| Marjon 192 | Reloader | Marjon 150 VG-85 | B | 1 | 83 | 85 | 85 | 86 | 85 |