SonderKollektion purchase grows into an influential VG 2-yr-old!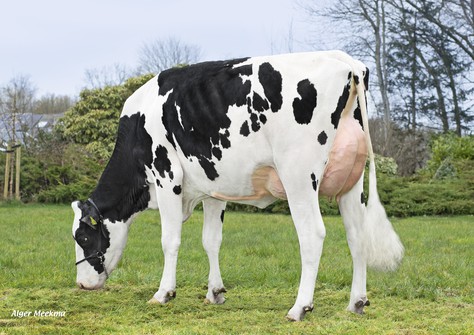 General
SPH Germania scored VG-86, VG-87 MS as a 2-yr-old
In 2021, Regan-Danhof Copyright offspring SPH Germania (lot 14) was offered during the SonderKollektion in Alsfeld, Germany. This early Copyright from the originally Dutch Grietje cow family, tested high in several genomic systems, which made her the perfect candidate for VMO Holsteins to bring her to the Netherlands.
With a total embryo contract value of € 5,500, SPH Germania switched ownerschip and went to the dairy farm of the Veenhouwer family. There she fulfilled the supplied embryo contracts pretty easily. Those embryos resulted in offspring up to 158 gRZG, and also at Veenhouwer a VMO 3STAR Secundus daughter of 155 gRZG is born, namely VMO Gerlinde. In early January Germania freshened at 2.03 years and started her first lactation well, so she's projected already at almost 10,000 kgsM with 3.88% fat and 3.53% protein. At a recent classification her first score was 86FR 87DS 87MS 84FL VG-86!
This cow family has produced several bull dams over the last few years. One of the most known is the Butz-Butler Shotglass daughter of Tirsvad Beacon Galaxy VG-85, which is the dam to proven sires Cyrano and My Dream P RDC.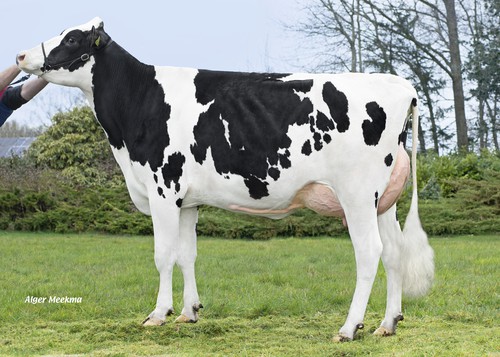 SPH Germania VG-86 (VG-87 MS), one of the first classified Copyright daughters in the Netherlands