Sire of Sons page up-to-date
The SIRE OF SONS page is up-to-date again with the breeding values (GTPI, GRZG, GNVI and/or GPLI) of August. A few new bulls are added to the site. They are mentioned below.
B&W
New in the list with B&W sire of sons is among others S-S-I Supershot Superfly, a +160 GRZG Supershot x Galaxy x Bookem from the Roylane Shot Mindy 2079 family. Superfly scores also +2708 GTPI. Half-brother Peak Chuck scores +157 GRZG, +301 GNVI and +2499 GTPI. Chuck is backed by the Sully Shottle May family and his dam is a Ransom x Robust x Planet x May.
The Missouri sons Milord (Missouri x Headliner) and Missan (Missouri x McCutchen) are also new in the list. Milord scores +160 GRZG and is an interesting bull for the German market. He hails from the Ladys-Manor Ruby D Shawn family. Missan, from the Regancrest Juror Brina family, scores +156 GRZG but also +2611 GTPI, +273 GNVI and +507 GPLI.
R&W
A very interesting red bull is Dreamboy Red (+156 GRZG / +255 GNVI / +2405 GTPI). The pedigree from this Debutant son goes through daughters by Sympatico and Talent back at KHW Regiment Apple-Red. Also from this family comes T-Spruce RUW Bretagne (+2442 GTPI / +149 GRZG / +268 GNVI). Bretagne is a Brekem son and his dam is a Dakker x Destry x Talent x Apple-Red.
Also new in the R&W list is American Nova Star, a Delegate son from the Etazon Warsau family. He scores +152 GRZG and +289 GNVI. Poppe Red Hot Duncan-Red hails from the very successful Willem's Hoeve Rita family. This Debutant son scores +2144 GTPI and +148 GRZG and his dam is the high producing Poppe Red Hot Rita 860 Red.
Polled
The highest polled bull for GTPI in the list is Endco The Anwer-PO. This Montross son scores at leat +2631 GTPI and is also backed by the Sully Shottle May family. Missouri son Mission P RDC is one of the most interesting polled bulls on German basis scoring +162 GRZG.
Mars Laurent P RDC (+270 GNVI / +149 GRZG; Label P x Mars Froukje 520), Regancrest Milford-P (+269 GNVI / +144 GRZG; Style P x Snowman) and Col Zorro P (+264 GNVI / +152 GRZG / +2403 GTPI; Zumba x Headliner) are the most interesting bulls for the Dutch market.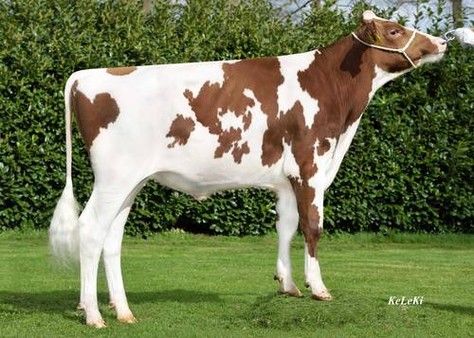 Dream Boy, +156 GRZG Debutant son from the KHW Regiment Apple-Red family