Supershot son of Holbra Sanadi #1 in Spain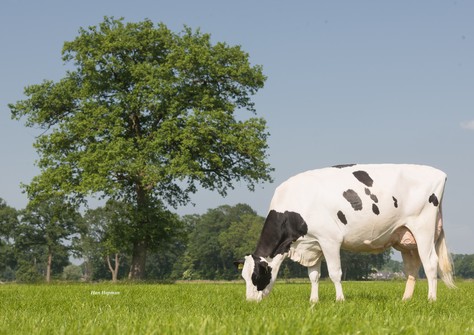 Sires
Holbra Sanadi VG-87, dam to Supertoro
Supertoro, a Supershot son of Holbra Sanadi VG-87, is the new #1 genomic bull in Spain scoring +4772 GICO. Supertoro combines a high production, very good type and scores high for longevity and SCS.
The dam to Supertoro, the high producing Holbra Sanadi (see: Holbra Sanadi: 15.000 kg milk!), is a daughter of Sully Hart Meridian (+4268 IC), the #1 proven bull in Spain. Granddam of Supertoro is the well-known Holbra Sana VG-89, a Snowman daughter of Holbra Bolton Paulona VG-85 and the dam to the former #1 genomic bull in Italy; Holbra Inseme Rodanas!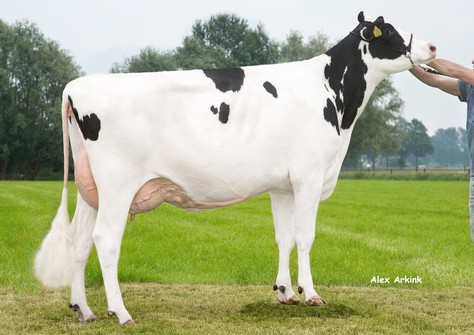 Holbra Sanadi VG-87
Zandenburg
The #2 genomic bull in Spain is Zandenburg Evan Mellor (+4748 GICO). This Missouri son is bred by Zandenburg Holsteins and his dam is Zandenburg Super Camilla 1 VG-86, a Supersire daughter of Zandenburg Snowman Camilla VG-89 (Snowman x Anderstrup Ramos Camille VG-89).
Super Camilla 1 is a half-sister to Zandenburg Meridian Camilla VG-89, the Meridian daughter that reprecented the Netherlands at the All-European Championship in Colmar. A full sister to Super Camilla 1, Zandenburg Super Camilla, is the dam to Crossfell Rudibon Milla, a +2797 GTPI Rubicon and the current #4 GTPI in Europe. Her full sister scores +2718 GTPI and is the #15. Milla has several full- and half-sisters scoring over +2600 GTPI. This family breeds!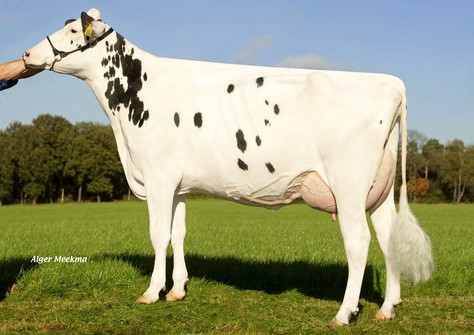 Zandenburg Snowman Camilla VG-89, granddam to Mellor