New at GenHotel: Veenhouwer-Mulder, VMO Holsteins
General
Anne Veenhouwer with 3STAR Gloria
The Dutch Anne and Tineke Veenhouwer-Mulder own 80 dairy cows, which produce in average 9,376 kgsM with 4.45% fat and 3.48% protein in 305 days. For this dairy farm the breeding adventure started with K&L Epic Juliana 1, a De-Su 11236 Balisto out of Padkaer Epic Julia - full sister of the proven bull Dukefarm K&L Balthazar at Semex! K&L Epic Juliana entered the Veenhouwer herd via the 3STAR Embryo Program.
However, it didn't stop just with the purchase of Balisto embryos from Julia, because Veenhouwer has invested more often in deep and strong breeding cow families in the past few years, so that the genetic level of their herd has increased a lot!
The Veenhouwer family, soon be known by the prefix VMO Holsteins, is (co)owner of several heifers of 155 gRZG or higher and with great gNVI scores. An example of this is 3STAR Gloria with 158 gRZG and 343 gNVI. She's a KNS Simon P-daughter from the family of Grietje 80 EX-91. Gloria her full brother 3STAR Secundus (163 gRZG) is in AI at the German stud Qnetics. Dam K&L RA Goldie, also from the 3STAR Embryo Program, is milking at Veenhouwer and as a 2-yr-old projected to produce 9,746 kgs of milk with 4.65% fat and 3.60% protein in 305 days. With a daughter proven sire stack like Rubi Agronaut x GP-84 Cinema x VG-86 Shotglass x VG-85 Beacon, they really have something special in their barn!

3STAR Gloria (Simon P x Rubi Agronaut)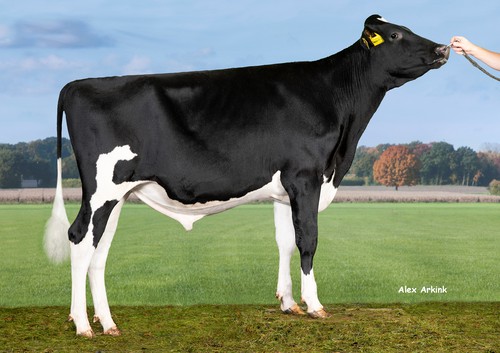 Full brother Gloria: 3STAR Secundus @Qnetics
One of the newest additions is Kalista P Red sired by SFH Sailor PP. This red and polled heifer is a member of the Wilder Kanu 111 RDC family with 160 gRZG! Veenhouwer bought this stunning young heifer at the HighlightSale, last January.
GenHotel welcomes the Veenhouwer-Mulder family (VMO Holsteins) as a new member and wishes them a lot of success with their breeding program!