Koepon named Dutch Breeder of the Year 2023!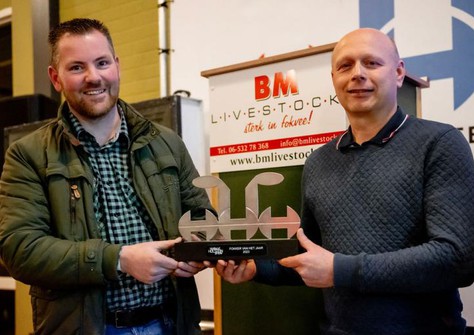 General
Herdsmanager Marcel Rijkers and Breeding Manager Alex Borst. Photo: Els Korsten
Cow families such as the Classy's, the Regenia's, the Doma's and since a few years also those of Prudence/Red Range, are definitely linked to the Dutch dairy farm Koepon. The breeding strength of these cow families is reflected in high indexes in multiple systems, super productions paired with top conformation and numerous bulls, which have been sold to various international AI stations. This fine piece of work did not get unnoticed by the professional judge for the title 'Breeder of the Year 2023', so this year's prize went to the Koepon team!
Koepon's genetics remain popular in the Netherlands ánd abroad. This is not only reflected in the large number of bulls that leave the dairy farm every year, but was also underlined by the success of the Koepon Summer Sale in 2022 & 2023 in which female young stock was sold to various European countries.
A domestic success, as also described by the professional jury, is that of the bull Koepon Random @KI Kampen, a descendant of the Weelder Esmonique/Walkup Astronaut Lou Ann line, which can be found as a proven sire within the top 25 NVI of Holstein bulls. At the red-and-white proven ranking, we also find in 13th place, the internationally used - former R&W gTPI leader - Koepon AltaTop-Red. AltaTop-Red @Alta Genetics is a Salvatore RDC son out of the Dg HS Schreur Sanne RDC purchased by Koepon and comes directly from the Des-Y-Gen Planet Silk EX-90 cow family. In addition, Koepon Showking (AltaDateline x Koepon Band Classy 402 VG-87) is a widely used bull among Swiss dairy farmers and was used by Swissgenetics as a sire of sons. The red-and-white and polled bull Koepon Sirius P Red also scores high on gNVI basis. This makes the current no. 3 gRZG Red sire, a Star P RDC grandson out of Lakeside Ups Red Range VG-86, an easy fit!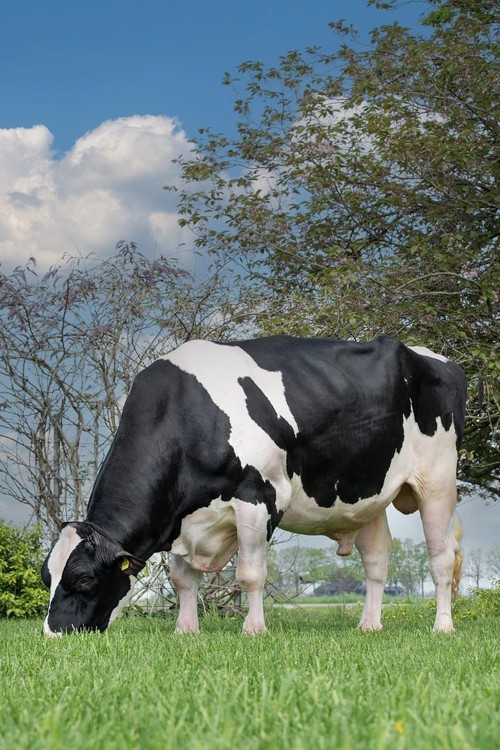 Koepon Random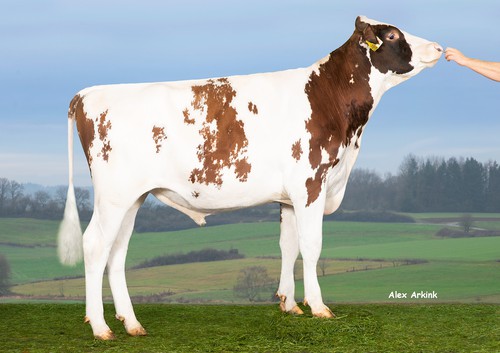 Koepon Sirius P Red
The high Star P RDC son in Germany is just one of the male offspring from Red Range VG-86 to compete at international level. The purchase of the Salvatore RDC daughter, which was named 'Red Impact Cow of the Year' in 2021, may have been Koepon's best purchase ever. Through the GenHotel Selection Sale in 2017, Lakeside and Upstream Holsteins sold the still young Red Range, after which the - already promising - red-and-white daughter out of Rose RDC VG-89 continued her way to Koepon Genetics. In the end, Red Range produced 16 sons to the AI, including the most famous influential sire of sons world-wide 3STAR OH Ranger Red, his full brothers Koepon Robin Red and Koepon OH Ryder-Red, but also Koepon Renown Red, Koepon AltaRefine Red and Koepon Rigoletto RDC! Meanwhile, the first grandsons are also stationed at AI-studs, such as Koepon Amadeus P Red, Koepon Sideshow-P-Red and 3STAR OH Rock-Red, the No.1 gTPI R&W bull of August 2023. Her first great-granddaughters are now also being flushed and will be able to follow in Red Range's footsteps under the flag of Koepon!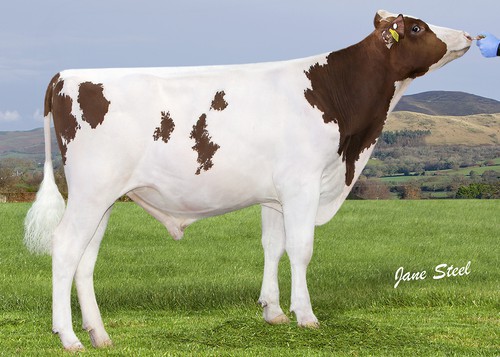 Koepon OH Ryder-Red, no. 2 most sold R&W sire at ABS/Genus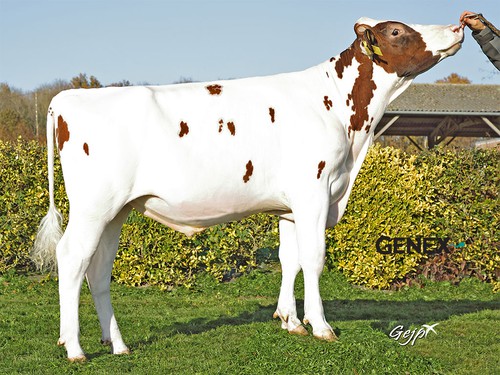 Koepon Sideshow-P-Red
GenHotel congratulates team Koepon on this enormous achievement and a well-deserved token of appreciation!