K&L Poppe 1178 raises her score, again!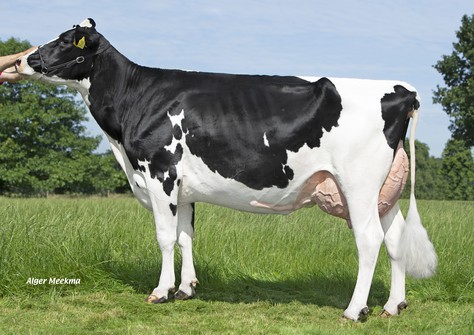 General
K&L Poppe Dellia 1178 now VG-88!
Recently a nice group of milking heifers and cows at VMO Holsteins was classified. This visit brought great first scores for the 2-yr-olds and also good re-classifications for some older cows. The absolute highlight of the day was the third calver K&L Poppe Dellia 1178, a SPH Cyrano out of the 3STAR Breeding Program, and now owned by Veenhouwer-Mulder.
Earlier this year we informed you about K&L Poppe Dellia 1178, the fantastically well uddered Cyrano daughter which was photographed. The in March calved Dellia 1178 hails, as her name suggests, from the Southland Dellias. During her classification she managed to raise her score to VG-88 with VG-88 DS and EX-90 MS!
Highest scored 2-yr-old is 3STAR Delfina, Crownmax x Avicii. Delfina freshened in August and is projected to produce 8445 kgs of milk with 4.35% fat and 3.62% protein. Like the earlier mentioned Dellia 1178 VG-88, Delfina also comes from the Dellia family. She was classified VG-85. The Crownmax is co-owned with GenHotel.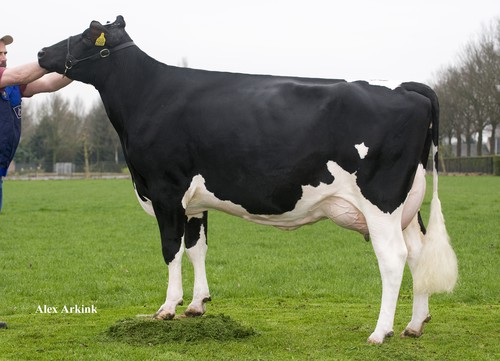 Manders Dellia 1 VG-87, 5th dam Delfina VG-85
The 12-year-old Taco daughter VMO Marie 104 RDC scored VG-85 with VG-89 Mammary. The 9th lactation Taco managed to hit the 100,000 kgs of milk barrier in October. The successful visit of the classifier and her outstanding production made Marie 104 RDC a 2 Star Brood cow!
The Veenhouwer-Mulder family, a enthusiastic participant in the 3STAR Breeding Program, recently managed to breed a 154 gRZG & 335 gNVI scoring Delta Cartoon P-Red. VMO Kanuca P Red is a daughter from the fresh 3STAR PC Kanuzia Red, which was purchased by Veenhouwer-Mulder at the GenHotel Selection Sale in 2020.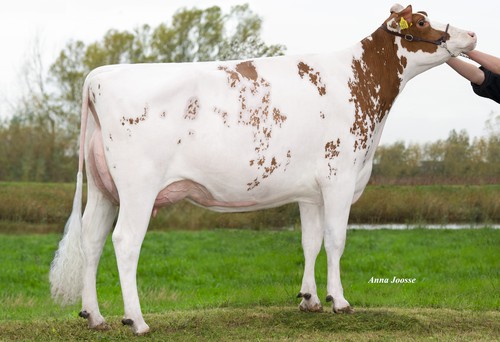 Granddam K&L SK Konzert Red VG-88