K&L Embryoprogram is paying off!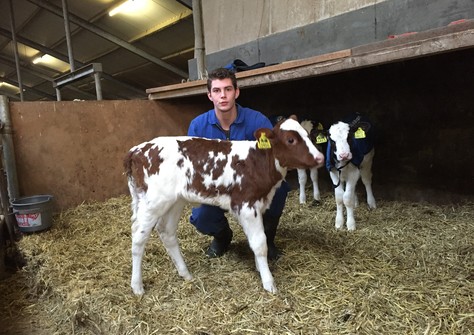 General
Schuit K&L RM Maggy P Red & Pieter Schuit
The K&L Embryoprogram starts to pay off for more and more dairy farmers. Several young heifercalves born out of the K&L Embryoprogram received their first genomic index in February. Some of them with a sky-high index.
+158 GRZG, Polled & Red
On the picture above you see Schuit K&L RM Maggy P Red with her proud owner Pieter Schuit. Pieter owns her in partnership with Ritmaster Holsteins and K&L. Maggy P Red is a Polled and Red Mega-Watt daughter that scores +158 GRZG. Her dam is a Capple P x Fanatic x Kylian x Lawn Boy x Talent x Apina Massia 20 VG-89.
+164 GRZG Lighter daughters
Two of the highest Lighter daughters hail from the K&L Embryoprogram as well. Lis K&L Nelya is owned by Lis-Leck Holsteins and K&L and scores +164 GRZG. The pedigree of this Balisto daughter goes back at RUW Neblina VG-87 (BW Marshall x VG-85 Lord Lily x Tui Onyx Nick VG-86).
Lighter daughter Aalshorst K&L Fina 1 also scores +164 GRZG. She is owned by Aalshorst Holsteins, Dukefarm Holsteins and K&L. Her dam, K&L SH Sina, is a Supershot daughter of FG Feline VG-86. Feline is a high producing Snowman granddaughter of Windy-Knoll-View Policy EX-93 (Outside x Windy-Knoll-View Promis EX-95).

Aalshorst K&L Fina 1 & Roland Scholten
K&L Embryoprogram
Via the K&L Embryoprogram, breeders can get 50% ownership of topgenetics under very interesting conditions. We supply the embyros and you take care of getting pregnancies and calves. These calves are in combined ownership with K&L. Please contact Boudewijn Koole (+31 654796318) if you are interested in the K&L Embryoprogram.