Influential bulldam Amber PP Red classified!
Recently, the time came for the very influential Amber PP Red, owned by Tirsvad Genetics and GenHotel, to meet the Danish herdbook classifier. The beautiful first VG score makes the homozygous polled Caudumer Solitair P Red daughter directly the 16th generation VG/EX in a row!
Amber PP Red's branch goes back to the renown brood cow Dixie-Lee Aspen EX-92, dam of the progeny proven sire Dixie-Lee Aaron. In addition to 16 generations of VG/EX in a row, this pedigree also brings positive components and a lot of milk. Amber's great-granddam (Aida MR RDC VG-86) is also the granddam of former sire of sons and number 1 red factor RZG sire Gywer RDC, which already has more than 5000 milking daughters in Germany. In January, Amber calved after being regulary flushed as a heider and then rose to a daily production of 38.5 kgsM.
The Masterrind Exclusive Sale topseller of 2020 has produced already more than 40 offspring before the start of her first lactation, of which no less than 7 sons were sold to various AI stations. Examples are the full brothers 3STAR TV Ambo P Red @ Semex and 3STAR Tirsvad Ranking P Red @ RUW but most famous is the number 1 PP Red Holstein bull of Germany: Tirsvad 3STAR Member PP Red @ RUW/RSH! These Amber sons, like their dam, will be of great influence within the European Red Holstein breeding, because they are now widely used as sire of sons by sire analysts.
There are also plenty of opportunities for the female offspring to follow in their dam's footsteps. Embryos from daughters have already been exported to various countries. There are still several embryo combinations from Amber her daughters available right now. Go to the GenHotel EmbryoSale for more information or contact us.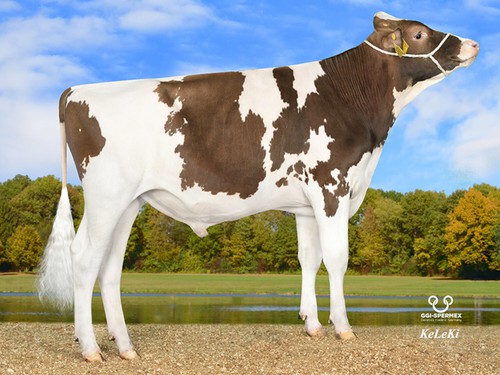 3STAR Tirsvad Ranking P Red (s. Ranger Red)

​3STAR Tirsvad Member PP Red (s. Matty P RDC)