Fienchen descendant Red Hot Feather RDC classified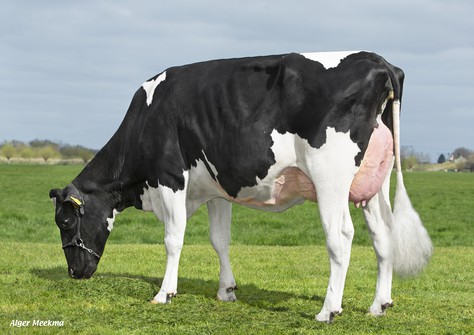 General
Red Hot Feather RDC classified with VG-87 & max VG-89 Mammary
Recently, Poppe Holsteins enjoyed a great classification day. During this classification, not only animals from Poppe have been scored inspected, but also cows (partly) bred by Red Hot Holsteins (Martijn van der Boom) and cows from the 3STAR Breeding Program.
Highest clasiffied heifer is Red Hot Feather RDC, sired by Weelder Esperanto. This daughter of the powerful dairy cow Den Hamer Red Hot Feebe RDC VG-89 - granddaughter of the well-known breeding cow Poppe Fienchen 580 RDC VG-89 - was classified with a total score of VG-87, with VG-88 for Frame and max VG-89 for Dairy Strength! Already her genomics profile showed she has the capability to produce a huge amount of protein, and now that she is milking for quite some time, this capability is confirmed: 12,329 kgs M with 4.07%F and 3.89%P in 305 days.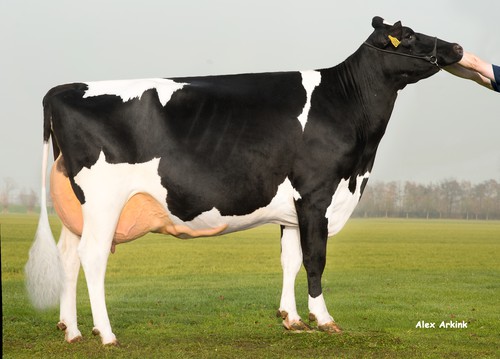 Den Hamer Red Hot Feebe RDC VG-89, the De-Su Balisto dam of Feather RDC VG-87.
First calver Poppe Red Hot Passion - former No. 1 flush age Red heifer based on gNVI - was scored VG-86 with max VG-89 MS. This VG-86 Manana-Red daughter is one of the first red members of the Rabur Outside Pandora EX-91 family, to which Palida VG-88 (s. Superstition) also belongs. Passion VG-86 is the full sister of the young sire Poppe Red Hot Marlut @Qnetics.
Passion VG-86 her maternal sister, sired by Mirabell Sound System, Poppe Red Hot Panama, was also classified this day. Although she is far in her first lactation, she still manages to get a classification of VG-86 with VG-88 MS!

Poppe Red Hot Panzer RDC VG-85/ VG-89 MS (by Fireman Red), dam of Passion VG-86 & maternal sister of Panama VG-86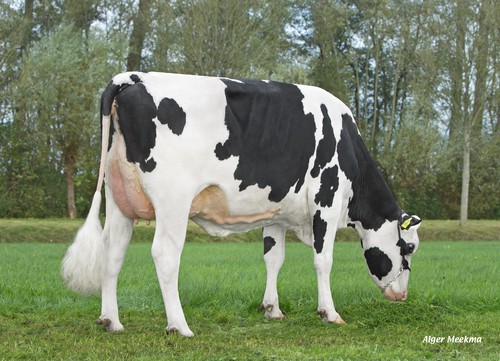 Paloma RDC VG-88 (by Brekem RDC), dam of Panzer RDC VG-85 & Panama VG-86
Poppe K&L Dellia 1177 (s. Battlecry), in second lactation, raised her score to VG-86 with a VG-88 MS. As her name suggests, she is a descendant of Southland Dellia 44 EX-90 (s. Adam). With this beautiful score, Dellia 1177 VG-86 is the 10th generation of the Dellia family with VG or EX in a row! She is a daughter of the great brood cow K&L SG Dellia VG-86 (s. Shotglass).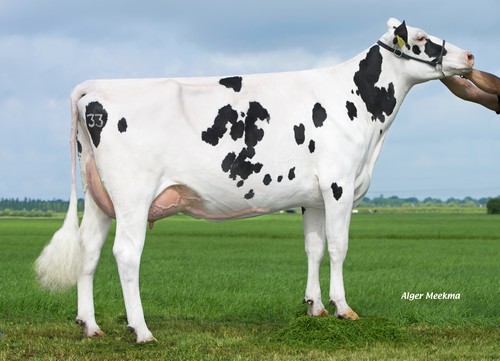 K&L SG Dellia VG-86 (by Shotglass), dam of VG-86 Battlecry
Classification highlights at Poppe Holsteins:
Name
Sire
Dam
Col
Lact
FR
DS
MS
FL
TOT
Feather RDC
Esperanto
Feebe RDC VG-89
B
1
88
89
87
83
87
Rita 1399 Red
Mega-Watt RDC
Rita 860 Red VG-87
R
2
86
88
87
83
86
Passion
Manana-Red
Panzer RDC VG-85
R
1
84
87
89
82
86
K&L Dellia 1177
Battlecry
SG Dellia VG-86
B
2
82
87
88
84
86
Fienchen 1253 

P RDC

Apoll P Red
Fienchen 972 RDC VG-85
B
3
86
88
87
83
86
Panama
Sound System
Paloma RDC VG-88
B
1
86
87
88
83
86
Fienchen 1813
Snow RF

Fienchen 1099 VG-86

B
1
82
86
84
87
85