Cows mature well at Schreur Holsteins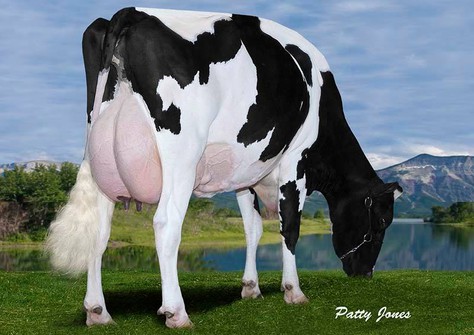 General
Foundation cow from the Sunny branch: Gen-I-Beq Goldwyn Secret RDC VG-87
During the last classification, a couple of cows were rescored at the dairy farm from the Reurslag family, known as Schreur Holsteins. The 2-yr-olds at Schreur Holsteins always develop in great cows in further lactations, this is very much shown by the scores from the past visit of the classifier.
From the Gen-I-Beq Goldwyn Secret RDC VG-87 family, which has delivered many top proven bulls, Reurslag milks an American Nova Star-Red in second lactation. This Schreur Sunny 3 RDC is a daughter of former #1 gTPI RDC heifer in Europe and thus a half-sister of the top-red carrier-sire Schreur Shimmer RDC @ABS/Genus. This A2A2 milk producing Secret RDC VG-87 descendant received VG-88 with VG-89 DS and MS this day. Her first calver half-sister Schreur Sunny 9 RDC (Anreli-Red x Sunny RDC) was classified with VG-86 and VG-87 MS.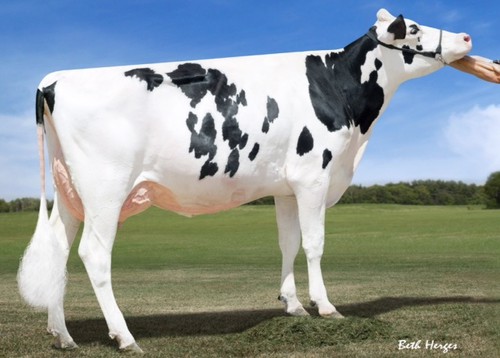 Dymentholm Sunview Sunday RDC VG-87, granddam of the classified Sunny's
Schreur Rose RDC, a second lactation Mr Salvatore RDC daughter from the recently VG-89 re-classified brood cow De Oosterhof Dg Rose RDC, follows in her dam's footsteps after receiving a VG-88 score and VG-89 for her  amazing udder. This promises a lot for her famous full sister Lakeside UPS Red Range at Koepon, which was recently classified VG-86, VG-88 MS as a milking heifer.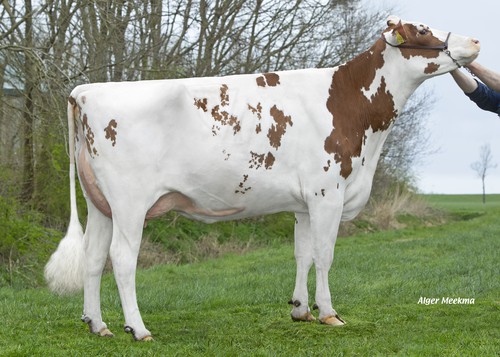 Schreur Rose RDC VG-87 her full sister, Lakeside Ups Red Range VG-86
Reurslag owns quite a lot of Red Holstein cows. The highest classified Red cow is one in second lactation and comes from the deep Apina Massia family. Schreur Massia 79 Red, sired by Groenibo Bram, received VG-87. None other than Apina Massia 102 RDC EX-90 (s. Shottle) is her great-granddam. 
| | | | | | | | | | |
| --- | --- | --- | --- | --- | --- | --- | --- | --- | --- |
| Name | Sire | Dam | Col | Lact | FR | DS | MS | FL | TOT |
| Sunny 3 RDC | Nova Star-Red | Sunny RDC | B | 2 | 87 | 89 | 89 | 87 | 88 |
| Rose RDC | Salvatore RC | Rose RDC VG-89 | B | 2 | 87 | 87 | 89 | 88 | 88 |
| Massia 79 Red | Bram | Massia 54 Red n.c. | R | 2 | 87 | 88 | 86 | 87 | 87 |
| Caralie 89 | Allard | Caralie 16 VG-86 | R | 1 | 87 | 87 | 87 | 86 | 87 |
| Massia 69 P RDC | Apoll P Red | Massia 41 RDC VG-86 | B | 3 | 87 | 89 | 87 | 85 | 87 |
| Charlotte 66 | Brandy | Charlotte 9 VG-85 | R | 1 | 84 | 87 | 87 | 84 | 86 |
| Sunny 9 RF | Anreli-Red | Sunny RDC | B | 1 | 83 | 87 | 87 | 85 | 86 |
| Caralie 25 RF | Ohare-P | Candlelight P Red VG-86 | B | 4 | 87 | 85 | 82 | 89 | 86 |
| Charlotte 27 P | Maddock P | Charlotte 7 P Red VG-85 | R | 5 | 86 | 88 | 86 | 80 | 85 |
| E Ihlen 444 Red | Angelo-Red | E Ihlen 399 Red VG-85 | R | 1 | 85 | 87 | 87 | 81 | 85 |
| Massia 91 | Manana Red | Massia 60 P Red VG-86 | R | 1 | 85 | 87 | 86 | 83 | 85 |
| Mindy | Dozer | 5146 Earn 5825  | B | 4 | 85 | 86 | 88 | 79 | 85 |