Classification at Rhala Holsteins & Excellent Genetics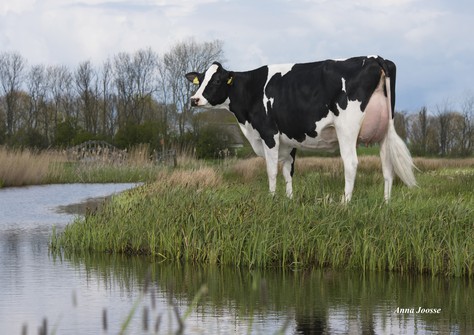 General
Rhala Daydream 16 EX-90, her Malta daughter is classified with VG-88
At the dairy farm of the Van der Steege family, which are also nown as Rhala Holsteins & Excellent Genetics, recently 14 cows and milking heifers are classified of which 11 scored VG-85 or more! 
During the classification day the members of the lovely Rhala Daydream family, backed by Markwell Durham Daisy EX-92, were coming strongly to the forefront. Rhala Daydream 48 (by Anderstrup Malta) was one of five relatives to classify. She upgraded her score to VG-88 with even VG-89 for her dairy strength and feet & legs. Daydream 48 VG-88 is in her 3rd lactation and is projected at 12.545 kgM with 3.8% F & 3.3% P in 305-days. 
The progeny proven Balisto son HFP Balu delivered the 4-yr-old Rhala Daydream 46, easily producing 48.6 kg milk a day with a VG-87/ VG-88 MS & FL conformation score!
Highest classified 2-yr-old Rhala Daydream 62, and again a Daisy EX-92 descendant, received VG-86 with VG-87 MS. Daydream 62 VG-86 is a Kings-Ransom Rival out of Daydream 30 VG-85.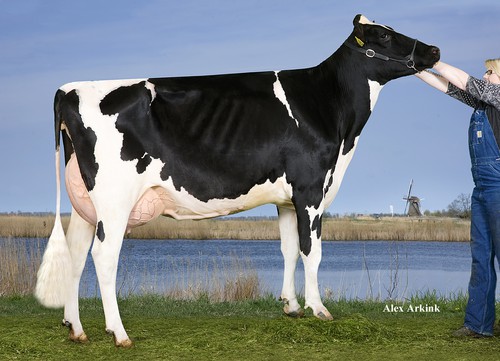 Rhala M.O.M. Daydream 5 VG-88 (Man-O-Man x Shottle Daydream VG-87)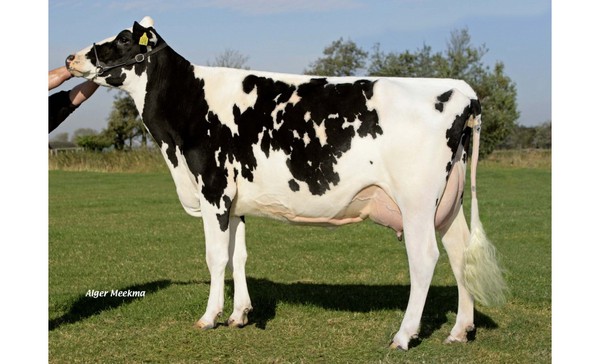 ​Rhala Shottle Daydream VG-87 (s. Shottle) the first 'Daydream' at the dairy farm of Van der Steege.
Granddaughter of Markwell Durham Daisy EX-92!
| | | | | | | | | | |
| --- | --- | --- | --- | --- | --- | --- | --- | --- | --- |
| Name | Sire | Dam | Col | Lact | FR | DS | MS | FL | TOT |
| Daydream 48 | Malta | Daydream 16 EX-90 | B | 3 | 85 | 89 | 87 | 89 | 88 |
| Daydream 46 | Balu | Daydream 24 GP-81 | B | 2 | 83 | 87 | 88 | 88 | 87 |
| Daydream 45 | Battlecry | Daydream 19 n.c. | B | 3 | 84 | 88 | 87 | 87 | 87 |
| Daydream 62 | Rival | Daydream 30 VG-85 | B | 1 | 83 | 86 | 87 | 86 | 86 |
| Merkel 2 | Modesty | Mosaik 445 | B | 3 | 83 | 86 | 86 | 88 | 86 |
| Rhala Re Misswa | Skywalker | Ex Lynette VG-87 | B | 1 | 84 | 83 | 85 | 87 | 85 |
| Rhala Ex Elly | Brentano | Jetset Elsa 14 GP-84 | B | 1 | 81 | 82 | 86 | 87 | 85 |
| Daydream 63 | Esperanto | Daydream 48 | B | 1 | 85 | 86 | 86 | 83 | 85 |
| Rhala Ex Ella | Padawan | Jetset Elsa 14 GP-84 | B | 1 | 85 | 87 | 86 | 81 | 85 |